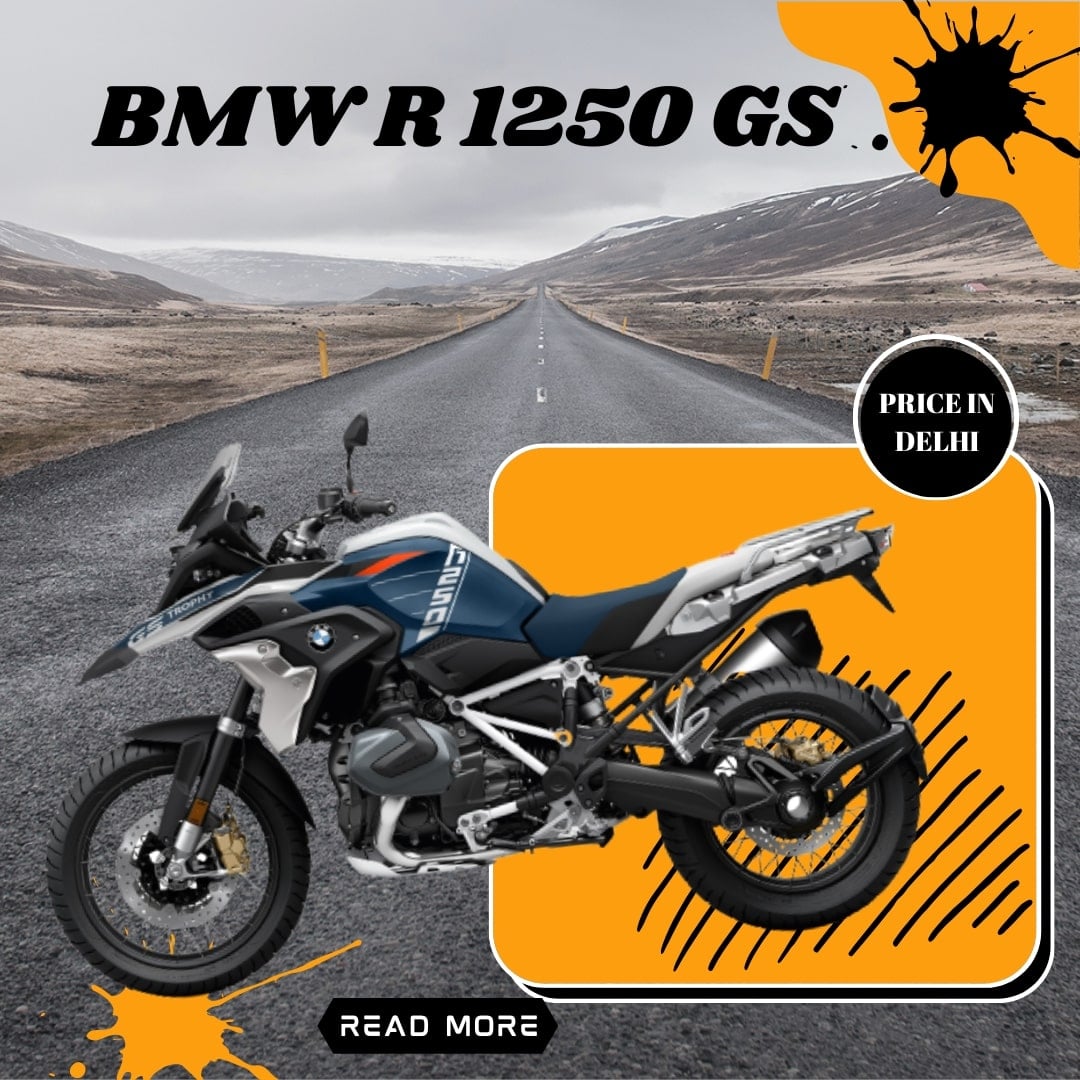 May 16, 2023

Hobo Rover

0
For decades, BMW Motorrad has been a leader in the motorcycle industry, offering bikes that cater to a diverse range of riding styles and preferences. The BMW R 1250 GS is a prime example of this, as it boasts a legendary status among adventure tourers, delivering an unparalleled combination of performance, comfort, and off-road capability. In this article, we will explore the features, performance, and value of the BMW R 1250 GS, providing insights for prospective buyers and adventure enthusiasts alike.
BMW R 1250 GS Performance and Handling
The R 1250 GS is powered by a 1,254cc, boxer-twin, air/liquid-cooled engine that produces a remarkable 136 horsepower and 143 Nm of torque. This powerful engine, paired with a smooth-shifting six-speed gearbox, ensures an engaging and thrilling riding experience on various terrains and conditions.
One of the key features of the R 1250 GS is its versatile handling, making it suitable for both on-road touring and off-road adventures. With a wet weight of 591 pounds, the bike manages to deliver an impressive balance of stability and agility. Its suspension system, consisting of a Telelever front fork and a Paralever rear setup, provides exceptional comfort and control on long journeys and off-road trails.
BMW R 1250 GS Design and Ergonomics
The R 1250 GS's design is unmistakably BMW, featuring the iconic GS beak, an aggressive stance, and the prominent boxer engine. The bike's aesthetics convey its adventurous spirit and hint at its off-road capabilities.
Ergonomically, the R 1250 GS offers a comfortable and upright riding position, with a standard seat height of 33.5 inches (and optional low and high seats) to accommodate a wide range of riders. Its wide handlebar and well-placed footpegs make for a relaxed and natural posture, perfect for long-distance rides and off-road adventures.
BMW R 1250 GS Features and Technology
The BMW R 1250 GS is packed with advanced technology and features that enhance the riding experience. Its full-color TFT display provides essential information at a glance and offers smartphone connectivity via the BMW Motorrad Connected app. Riders can also customize their ride with various riding modes, Dynamic ESA (Electronic Suspension Adjustment), and an optional quick-shifter.
Safety is a priority on the R 1250 GS, with standard ABS, Automatic Stability Control (ASC), and optional Dynamic Traction Control (DTC) and cornering-optimized ABS Pro.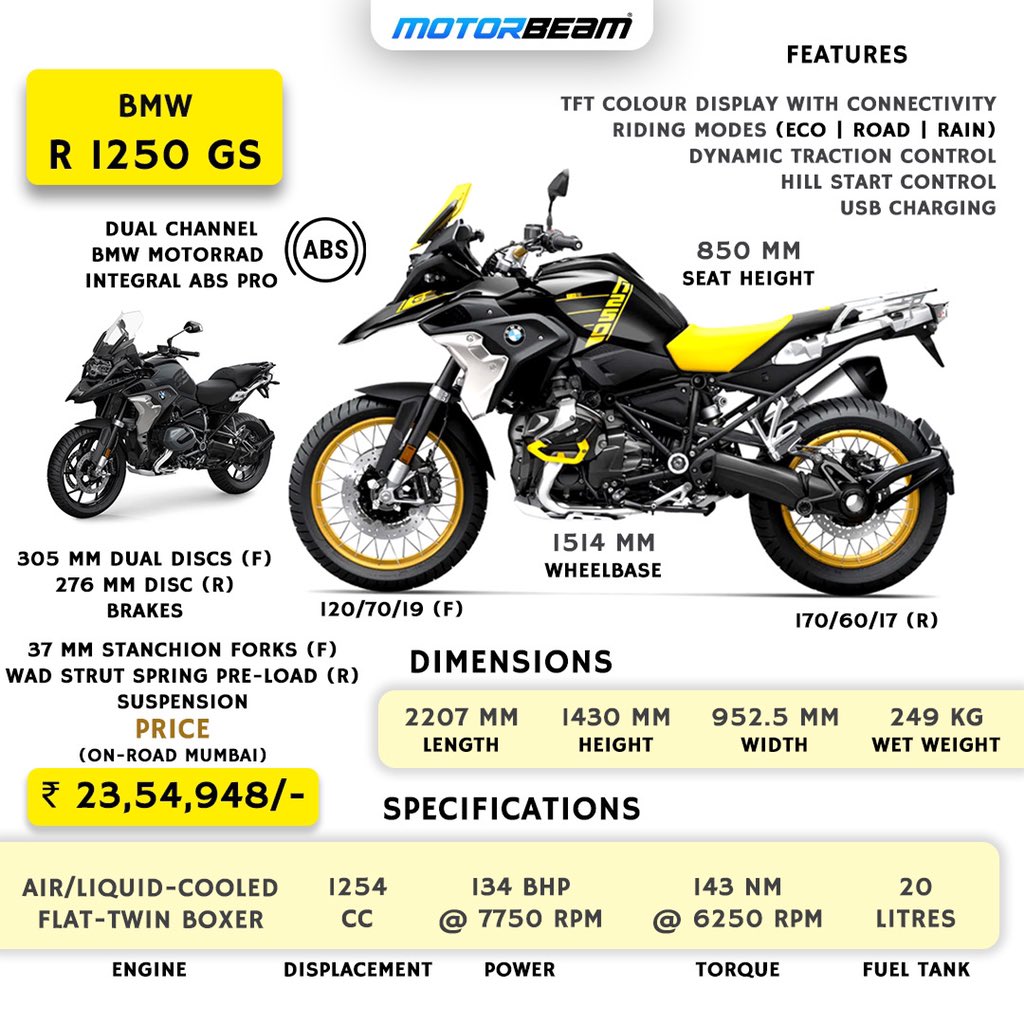 BMW R 1250 GS Price in Delhi
In Delhi, the starting ex-showroom price for the BMW R 1250 GS is Rs. 20.55 Lakh. This motorcycle is available in a single variant called the R 1250 GS Pro BS6. We can provide you with the complete on-road price breakdown, including the ex-showroom price, RTO charges, insurance, and other costs for all variants of the R 1250 GS.
If you opt for the base variant of the BMW R 1250 GS, the monthly EMI would be Rs. 56,265 at a 6% interest rate. If you're interested in exploring other bikes in the same price range, two top competitors to consider are the Triumph Tiger 1200, priced at Rs. 19.19 Lakh, and the Ducati DesertX, priced at Rs. 17.91 Lakh.
Conclusion
Though the BMW R 1250 GS comes with a premium price tag, it delivers exceptional value for riders seeking a top-of-the-line adventure tourer. Its combination of performance, comfort, off-road capability, and cutting-edge features make it an attractive choice for those looking to conquer roads and trails alike.
In conclusion, the BMW R 1250 GS is a legendary adventure bike that invites riders to explore the world around them. Its powerful performance, impressive handling, and undeniable BMW quality make it a perfect companion for those seeking new experiences on two wheels.
Also Read About – BMW F 900 R