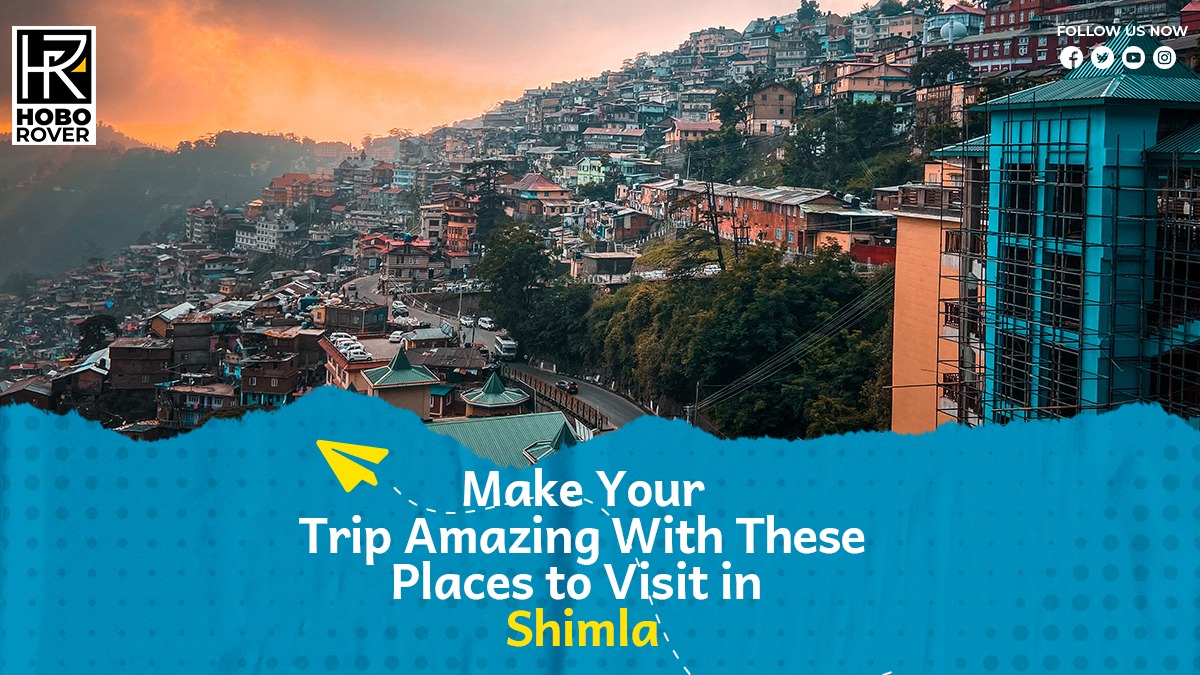 February 16, 2022

Hobo Rover

0
Shimla is one of the most beautiful hill stations in northern India. Shimla is the gateway to the Indian Himalayas. The hill station lies 2,000 feet above sea level. Shimla has its charm which has attracted tourists from far away. Though it is a hilly city, you can reach there by a flight from Delhi or Chandigarh. Located at a high altitude, Shimla is famous for its natural beauty, colonial-era architecture, and much more. All these contribute to a long list of Places to Visit In Shimla.
It has several natural as well as man-made attractions which are no less than a treat to the eyes. So, if you're planning to go to Shimla, don't forget to follow this blog by Hobo Rover, the best travel information website, to make the most of your trip:
Jakhoo Hills
First among the Best Places to Visit In Shimla is Jakhoo Hills. These hills are the highest peak in Shimla, India. It rises above the town of Shimla and offers peak views of the Himalayan Ranges. In addition to the hills, the temple dedicated to Hanuman, who is the Hindu God for strength and perseverance, attracts several devotees and tourists alike. Many stories are connected with this temple including one that regards it as directly located where Lord Hanuman rested his gargantuan form on his journey to bring Lakshman's lifesaving Sanjeevani Booti during the war over Lanka.
Mall Road
When it comes to the perfect couple vacation spots in Shimla, you can't skip over Mall Road. The Mall Road brings together all that is fashionable, hip, and happening, as well as traditional and charming all in one. You will find here all sorts of cafes, restaurants, and jewelry stores. You will also get a glance at showrooms that sell carved wood and handcrafted clothes. This is a place where visitors of all ages can find something they like. Whether you are looking for clothes or perhaps something made out of wood, this street has it all; shopping will not be a problem while you are here.
Green Valley
Green Valley is a breathtaking dale in Shimla city. Surrounded by the mountains and dense forests, it presents an idyllic yet vibrant picture of nature at its finest. Also known as the Village of Fairies, Green valley is a haven for nature lovers and is one of the favorite places to go honeymooning in Shimla. The natural splendor of this valley has attracted numerous directors of the movie industry to shoot their movies here. It has seen regular appearances on television shows as well, which means it's easy to enjoy all the glories of this picturesque hill resort every day.
Himachal State Museum
The Himachal State Museum, located on the Mall Road in Shimla, is housed in an old colonial mansion. The museum has a wide range of artifacts collected from all over the state including miniature paintings; stone sculptures; coins; and dolls. You can also find paintings at this museum, which depict life in the state during and before the British occupation. In addition to these precious treasures, you can also visit this place to study historical documents that date back to 1813.
Mashobra
Amid a cold winter, Mashobra, a small town in Shimla, turns into a winter wonderland for ski lovers. The snowy expanse is well suited as a base for skiing and another form of recreation is called sledding. Sledding down the slopes is an amazing activity for anyone with kids who can enjoy this opportunity to slide down on their own or let go of their worries and tensions on the slopes by making snowmen with them. So let your tots experience the joys of winter while taking time out of your busy schedule!
So, are you planning your trip and wondering which Places to Visit In Shimla? Then, don't forget to visit these places. Hope this blog post by Hobo Rover, the best travel information website, has helped you! If you have any other questions or concerns about your trip, please contact us anytime.