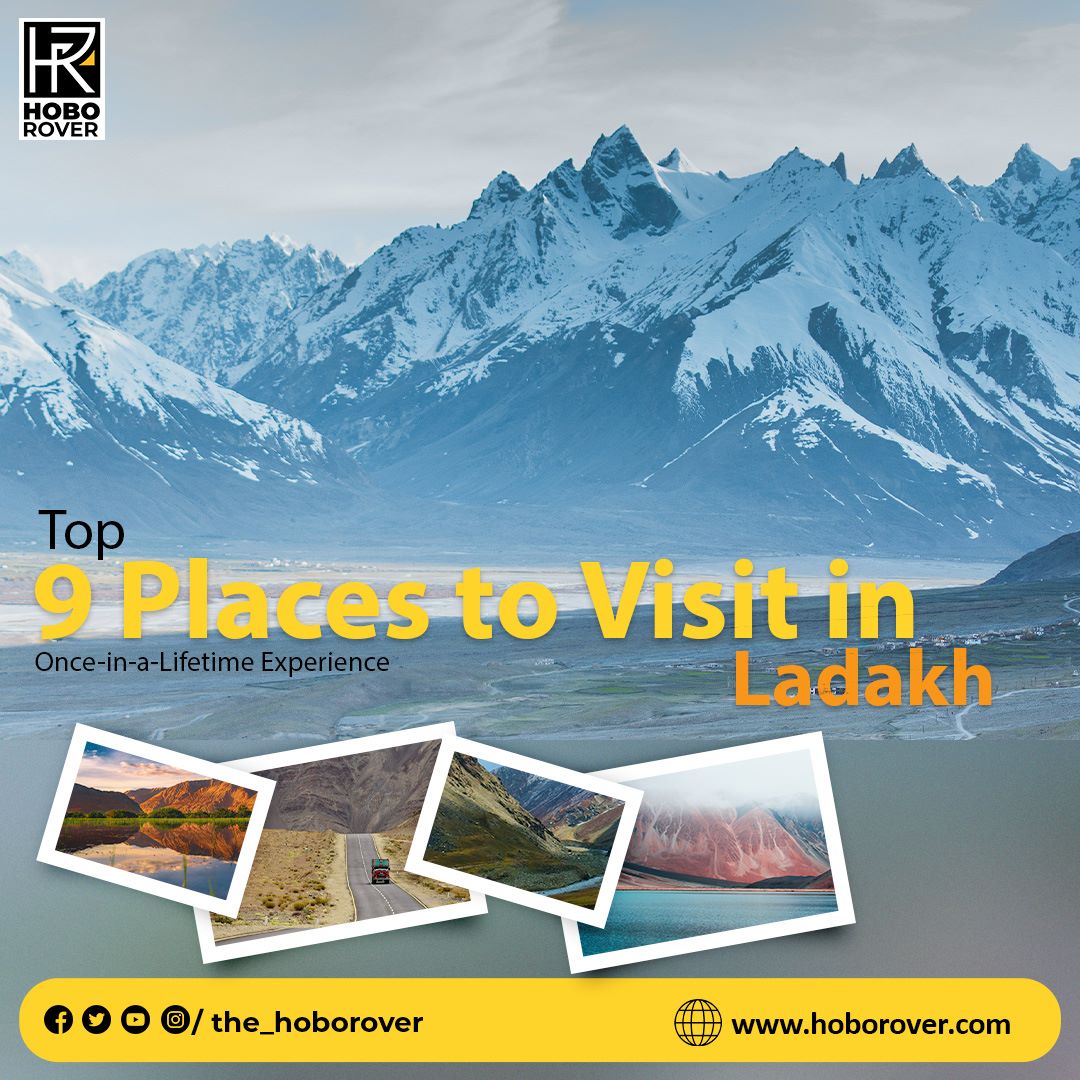 January 5, 2023

Hobo Rover

0
Every person requires a way to get away from their everyday problems. Anything is possible as a cause. For HoboRover, it's exploring new places. Some of you might enjoy traveling to new places as much as we do because it gives your life meaning, provides you with time for introspection, and allows you to experience the wonder of discovering all that the world has to offer you in terms of information, entertainment, and, of course, thrills. Lets know about best places to visit in Ladakh.
We'll be talking about a region known as the "Land of High Passes" today. Exactly. You are correct in saying that. "Leh" is short for "Ladakh," the official name of the region. As well as being home to some of the world's highest mountain passes (including Ziji La, Chang La, Namika La, etc.), this region is also rich in fascinating myths and legends, particularly those relating to early Buddhist beliefs and practices. Let's see the top places to visit in Ladakh:
Pangong Tso Lake
Pangong Lake is in the Himalayas at a height of 4350 m. With the beautiful mountains in the background, the landscaped views, and the calm blue water of the lake, you would feel like you were in a fantasy world. It is one of the most visited places in Leh, Ladakh, by tourists. The word "Pangong Tso," which comes from Tibet, means "High Grassland Lake." This is how the lake got its name. The most interesting thing about this lake is that its color changes. At different times, it can look blue, gray, green, or red. You can only know how happy it really is if you come here once. The best time to go to Pangong Lake is from May to September.
Kargil
People usually stop in Kargil on their way from Srinagar to Leh. It's a popular tourist spot that's small enough to see on the way. Kargil is also a dangerous area because it is close to the line of control. But Kargil has more to offer than just its glorious past. It has beautiful scenery and exciting things to do. The main thing to see and do in Kargil is the war memorial. It is where the famous Nun Kun Peaks are, and it is a great place for mountain climbing and trekking. Kargil is on the banks of the River Suru, and river rafting is a unique thing to do there. Kargil has a long history that goes back to the 16th century. Its architecture is a mix of Buddhist and Turkish styles.
Nubra Valley
Nubra Valley is known for its unique landscape and jaw-dropping scenery. It is connected to Leh by the Khardung La Pass and has many things to do. People know Nubra Valley for its cold desert and double-humped Bactrian camels. In the valley's sand dunes, you can ride a camel among the barren mountains. There are many eco-friendly camps where you can go camping and enjoy the outdoors. The main things to see in the Nubra Valley are Hunder Village, Diskit Monastery, Turtuk, and Panamik. The best time to visit Nubra Valley is from May to September.Leh Airport, which is 127 km away from Nubra Valley, is the closest airport. It is easy to get there from Leh city by taxi, bike, or bus.
Magnetic Hill
It is one of the most visited places in Ladakh by tourists. I'm sure you would want to go somewhere where science doesn't matter and gravity doesn't mean anything. On Magnetic Hill, there is a yellow sign that says, "The thing that doesn't follow the laws of gravity." It tells you to park your cars at the base of the road where there is a white point. This is called a "magnetic road," and when you park your car there, it will move forward on its own. What do you think? This is one of the best places to visit in Ladakh, so you should put it at the top of your list. The best time to go to Magnetic Hill is from May to September. The best thing to do here is take pictures of the beautiful views.
Heisei National Park
The Hemis National Park can be found at an elevation ranging from 3,300 to 6,000 meters above mean sea level. This park is known to be the highest in the world, and it is also home to the endangered snow leopard. Additionally, it is the largest park in all of South Asia. Hemis National Park was established in 1981, and today it is home to six villages that are inhabited by more than 1,600 people. Some of them make for fantastic places to pitch a tent. The Hemis Monastery, which dates back 400 years, can also be found within the park. This national park is also famous for its numerous opportunities for hiking and trekking.
Leh shanti stupa
The Shanti Stupa in Leh is a building with a white dome that sits on top of a steep hill. It was built by a mix of Japanese Buddhists and people from the area. It looks out at snow-capped peaks. It was intended to be a symbol of peace and to commemorate 2500 years of Buddhism.Inside the stupa are pictures of how Buddha was born and how he died. Because it is in a good spot, the Shanti Stupa in Leh gives clear views of the valley below. When it's lit up at night, it has its own beauty. This is one of the best places to go in Ladakh if you want to see a beautiful sunrise or sunset.
Hemis Monastery
Hemis Monasteries is one of Ladakh's largest monasteries.It is part of the Drukpa lineage. There, monks learn about Buddhism at the Mahayoga Tantra School. The monastery has a huge number of artifacts and relics from the past. From the top of the monastery, you can see the Chomoling, which is home to a group of nuns, and take in the beautiful views of the peaceful area. The Hemis Festival is the most important event held here, and a lot of tourists come every year to see it. The best time to visit Hemis Monastery is from May to September.The closest airport to Hemis Monastery is Leh Airport, which is 38 kilometers away. To get to the monastery from Leh, you can hire a private taxi or a bike. Also, government buses go to Hemis often.
Chadar Trek
What would it be like to hike across a frozen lake? Have you ever given that any thought? If you want to do something like this, Chadar Trek is one of the best things to do on your Ladakh trip.A popular river in the Zanskar valley, it freezes over in the winter. It looks like a chadar, which is an ice blanket. Its beauty is always at its best, making it a great place to take great pictures to remember great times. If you go to Ladakh, you have to do the Chadar Trek. It will make your trip great. January and February are the best months to do this trek.
Turtuk
Turtuk is the closest village to the "line of control (LOC)" because it is right on the border with Pakistan. This is the only village that tourists are allowed to visit because it is so close to the border. Here, the landscape is very different, going from barren wastelands to lush greenery with many apricot and peach fields. This cute village is one of the last places in India with a strong Balti culture. Try the tasty Balti food here, especially the stew made with apricots. Turtuk is as close to heaven as you can get. It has a peaceful atmosphere and beautiful views, and the river Shyok flows through it. It is one of the best off-the-beaten-path places to visit in Ladakh, where you can enjoy the beauty without being bothered by other tourists. By road, Leh is 205 km away.