January 11, 2023

Hobo Rover

0
Mussoorie, or Mansuri, as many people affectionately call it, is a beautiful place with beautiful mountains in the background, a city that sparkles at night, and a waterfall that will take away your summer blues. lets know about Best places to visit in Mussoorie, if you are tired of traveling or want to get away from the scorching heat.
The busiest time of year in Mussoorie is between March and June. This is the time of year when Mussoorie is at its most colorful. The hill station welcomes all its guests and shows them all its pleasures, which are made even better by the great weather in Mussoorie. Mussoorie is a beautiful place to be in the winter. Due to the pleasant Mussoorie weather in winter season, it looks like it came right out of a postcard. Even though there may be other tourists, it won't be as busy as in the summer.
Want a map to help you plan your trip? Use this blog by HoboRover as a guide for where to go in Mussoorie. But, before we get into it, know how well and easily Mussorie is connected to nearby big cities.
By car, the distance from Dehradun to Mussoorie is 33 kilometers, but by plane, Dehradun to Mussoorie is only 16 kilometers. By road, the distance from Delhi to Mussoorie is 282 kilometers, while the distance by air from Delhi to Mussoorie is 221 kilometers. By road, the distance from Haridwar to Mussoorie is 82 km, while the distance between the Haridwar to Mussoorie by air is 58 km.
Best Places to Visit in Mussoorie
Kempty Falls
Kempty Falls is one of the most popular places to visit and have a picnic in Mussoorie. It is in the Ram Gaon area of Tehri Garhwal, which is on the road between Dehradun and Mussoorie. Kempty Falls is about 4,500 feet above sea level. It is surrounded by high mountain cliffs and sits in a valley. Kempty Falls gets its name from the words "camp and tea," which refer to the fancy tea parties that used to be held here in the evenings. This gave rise to the local name, Kempty. John Mekinan turned it into a place for picnics because of how beautiful and interesting the area was.
You can take a refreshing bath under the waterfall or go boating in the nearby man-made pond. On top of that, it's a popular place to have a picnic. Climb from the first main Kempty Falls to the second if you're feeling adventurous. The first waterfall is about five to ten minutes away on foot from the main road. To get to the second fall, you have to walk further into the forest.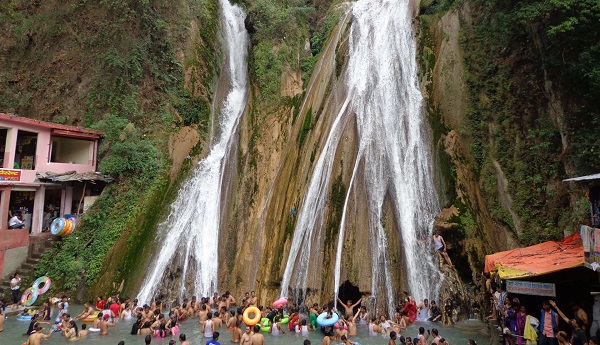 Camel Back Road Mussoorie
The Camel Back Road Mussoorie is a 3 km long road in the middle of Mussoorie. It is lined with natural rocks that look like a camel's hump. It looks out over the Doon Valley and has a beautiful view of the Himalayas. People also like to go there to watch the sun rise and set. The best way to see what this beautiful road has to offer is to take a long walk along it or come here for an early morning jog. Along the Camel Back Road Mussoorie, you can also see a British cemetery that is 180 years old and the first of its kind in Mussoorie.
The closest train station to Camel Back Road Mussoorie is the Dehradun Railway Station, which is 34 km away. It takes about 1 hour and 20 minutes to drive here. You can hire a taxi or autorickshaw at the station, and they'll get you to Camel's Back Road quickly and for a reasonable price.
Landour
Landour is a small town in Uttarakhand that is near the lower western Himalayas. It is tucked under a thick canopy of Deodar trees. It is a small cantonment town with a name that comes from the Welsh village of Llanddowrer. It has a lot of history that goes back to the time when it was part of Britain. The cozy atmosphere and pristine natural beauty of Landour are perfect for relaxing and recharging your senses. Landour is 980 feet higher than Mussoorie. "The Queen of Hills" is the name given to the two twin hill stations because of how beautiful and peaceful they are.
The closest airport, Jolly Grant, is in Dehradun, about 60 km away. It has good connections to cities like Delhi, Mumbai, and Bengaluru. Dehradun is also easy to get to by train from cities like Lucknow, Amritsar, Haridwar, etc. Landour is about 40 km from the station. From the station, you can take a private taxi or a direct bus to Landour.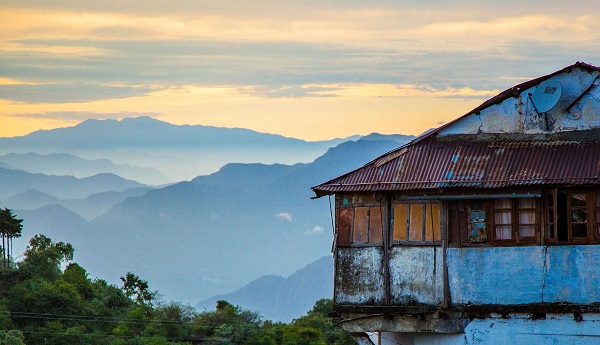 Mall Road Mussoorie
The Mall is a colonial relic in the middle of Mall Road Mussoorie. It has benches and lampposts and is full of modern shops, video game parlors, and skating rinks. The author Ruskin Bond often goes to the Cambridge Bookstore to look at books. There would be a lot of local vendors at Mall Road Mussoorie, like photographers who could take great pictures for you. Try taking a picture here while wearing traditional clothing.
Dalai Hill Mussoorie
Dalai Hill Mussoorie is one of the most beautiful places in Mussoorie, Uttarakhand. It is above the Lal Bahadur Academy and not far from Happy Valley. It's a place where you can find complete peace and beautiful views of the Himalayas and green valleys. The Dalai Hill Mussoori look out over the beautiful Garhwal ranges and are known for the many Tibetan prayer flags and a statue of Lord Buddha. A Buddhist temple is also here. The area is great for people who love trees, plants, and flowers, and the trails through the forest are great for hiking.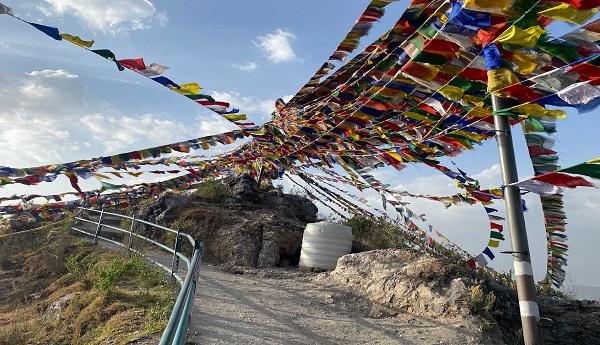 Lal Tibba Scenic Point
Lal Tibba is a popular lookout point. It is on top of Depot Hill in Landour, about 6 km from Mussoorie. Lal Tibba Scenic Point is one of the most beautiful places to look around because it is the highest point in the area. Lal Tibba Scenic Point is a mountain that rises to a height of 2,275 meters (7,164 feet). From there, you can see the Nilkantha peak (6,596 meters) in Badrinath, the Kedarnath peak (6,940 meters), and the Banderpoonch range, which has three peaks, the highest of which is 6,316 meters. It is also a popular place to watch the sun rise or set.
Lal Tibba Scenic Point is only 6 km from Mussoorie, which is well connected by road to Dehradun, which is about 40 km away and takes about an hour and a half to drive to. Delhi is 300 kilometres away. The closest train station is in Dehradun, which is 38 kilometers away. The Jolly Grant airport is also in Dehradun (65 kilometres).
Devalsari Temple
Devalsari Temple is about 55 km from Mussoorie in Uttarakhand. It is in the Aglar Valley of Tehri Garhwal and is known for being a relatively unexplored area that is also a nature lover's paradise. Devalsari is surrounded by lush green meadows and tall, imposing mountains. This makes Devalsari Temple a popular place for people who want peace and adventure. It is known for having a wide range of plants and animals, like more than 70 kinds of colorful butterflies and more than 60 kinds of birds. You can not only come to Devalsari Temple to watch birds or look at the many butterflies, but also to hike.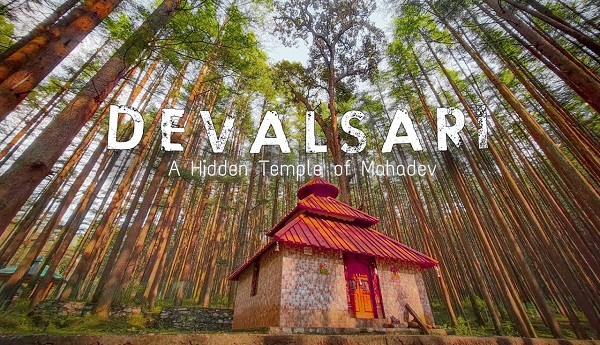 Bhatta Fall Mussoorie
The Bhatta Fall Mussoorie are a well-known place to have a picnic and a popular tourist spot. The Bhatta Falls are known as one of the best waterfalls in Mussoorie. It is about 10.5 kilometers from the Mussoorie Library Bus Stand. To get to Bhatta Fall Mussoorie, you have to walk about 500 meters. This makes it a good place for people who like to try new things. This natural waterfall drops 30 feet from its highest point into a round pool. One of the most amazing things about Bhatta Waterfall is that it hasn't been turned into a tourist attraction yet. This keeps the natural setting and gives visitors peace.
From Mussoorie or Dehradun, it's easy to get to Bhatta Fall Mussoorie by car or bus. On the Mussoorie Bhatta road, the falls are 6 km from the city of Mussoorie.
Dhanaulti
With few people around and without overwhelming your senses or expectations, Dhanaulti slowly seeps into your mind like a long-lost pleasant dream, bringing comfort and peace and giving you a much-needed break from your daily routine. Getting away from the place you see every day and going on a few hikes through trails is a great way to relax and calm down. People come to Dhanaulti to see wide stretches of clear water, see breathtaking views, and feel the freshness of nature everywhere they go.
The small town of Dhanaulti in Uttarakhand is 62 km away from Mussoorie and is about 2200 meters above sea level. It is not a very popular place to visit.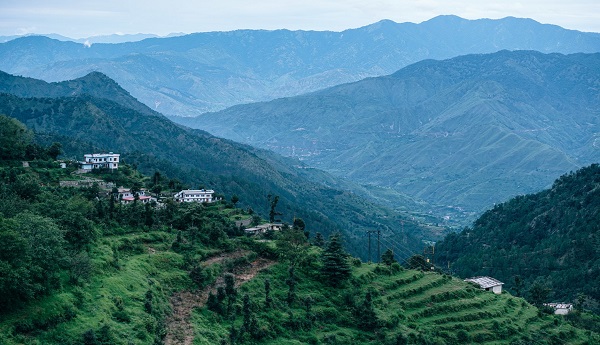 Mussoorie Lake
Mussoorie Lake is an artificial lake made by the City Board and the Mussoorie Dehradun Development Authority. It is 6 km from Mussoorie and is on the road between Mussoorie and Dehradun. Mussoorie Lake is a great place to relax and recharge in the middle of nature. It is surrounded by beautiful scenery and has unreal views of the charming Doon Valley. The beautiful Mussoorie Lake is a new picnic area that started out as a waterfall. The most popular outdoor activity at the site, besides the many others, is paddle boating.
A trip to Mussoorie Lake might not be complete without a boat ride. It's an out-of-this-world experience to feel the gentle breeze caress your face as you enjoy a tour of the sparkling waters surrounded by majestic, beautiful mountains.