December 14, 2022

Hobo Rover

0
With culinary treasures like Maach Bhaat and Rosogulla, it's no surprise that West Bengal is a culinary mecca. West Bengal is home to a wide variety of delicious foods, from regional specialties to traditional dishes. You can taste Mughal and other dynastic influences in West Bengal's distinct culinary tradition. West Bengal famous food, from the elaborate traditional spread prepared in private homes to the variety of street food and the entire wide range of Bengali sweets, is unquestionably a delicious indulgence.
Panchforan, a blend of five species (aniseed, mustard, fenugreek seeds, cumin seeds, and black cumin seeds), and mustard oil give Bengali cuisine its distinctive flavor and help to preserve the dish's tenderness. The people of Bengal are naturally voracious eaters and are also well-known for their sweet tooth. Their signature West Bengal Traditional food are so delicious that you will want to drool while looking atthem.
Bhapa Ilish
Ilish Maach is a dish from West Bengal that is made with two Ilish or Hilsa fish, which are known as the queen of fish. In Bengali cooking, this dish has a good luck meaning. This tasty deep-fried fish dish is called Ilish Maach, Shorshe Ilish, or Bhapa Ilish. It has a unique taste. Aside from tasting great, the fish has tender meat and shiny silver color, making it look tempting and attractive. The much-loved local dish of West Bengal is made both dried and curried. Serving it with rice is a common practice. Bhapa Ilish is a must-try for fish lovers!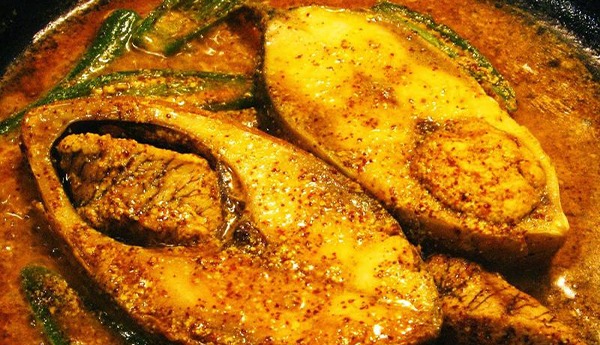 Bhetki Paturi
Bhetki Paturi is the most famous Bengali dish. It is made of whole fish wrapped in banana leaves that have been brushed with oil. Fish slices or whole fish are marinated in a mustard paste, panchforan, with a little mustard oil and then wrapped in banana leaves. Bhetki Paturi is steamed over a low flame until it is soft. As soon as you open these banana-leaf packets, you can smell the fresh flavors and the fish's aroma. Sounds as good as it tastes!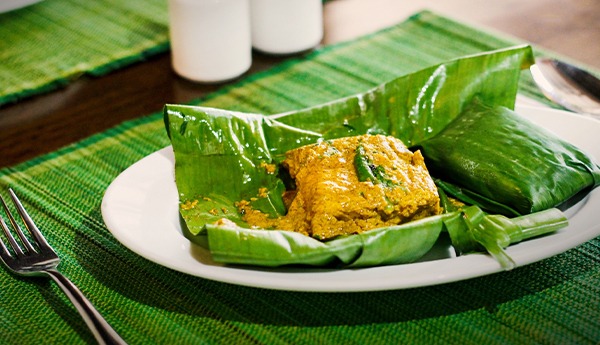 Kosha Mangsho
Traditional preparation of red meat, Kosha Mangsho, can be traced back to the time of the British Empire. The deep and rich mutton curry is the Bengali equivalent of Sunday roast, and it is passed down through the generations in Bengali families from one generation to the next. This mouthwatering dish hailing from West Bengal is prepared using mustard oil, a tangy tomato and yogurt curry, and a variety of freshly ground Bengali spices. Kosha Mangsho is served with a variety of fresh vegetables. The traditional preparation of mutton curry has an aroma that will stay with you forever and will make you wish there was more.
Shukto
Shukto is a healthy vegetarian meal made with plantains, brinjals, radishes, bitter gourd, sweet potatoes, and drumsticks. The typical mixed vegetable dish made in the Bong style has a thick texture and the smell of the famous panch phoran. The traditional Shukto is the best meat dish in the state because it is so tasty. This dish has a creamy texture because it is cooked in milk. It tastes bitter and sweet. This dish is what West Bengal is known for and is definitely soul food.
Mochar Ghonto
Mocha Ghonto is a classic treat Bengalis love like crazy. It is a pure Bengali treat and one of Bengal's most loved traditional vegetarian dishes. It should be on the menu card of any good Bengali restaurant. It's a niramish recipe, which means it doesn't use onions or garlic. It's perfect for a vegetarian or puja day, especially during the holy Durga puja festival. In Mochar Ghonto, boiled banana flowers, also known as mocha, are cooked with grated coconut and chunks of potato in certain spices. Most of the time, plain rice is served with this spiced dry curry.
Mishti Doi
"Mishti" means "sweet," and "Doi" means "curd." Mishti Doi is a popular dish in the state that is served after a meal and has cooling properties. This famous dessert from West Bengal is made with milk, curd culture, and palm jaggery. It is aged in earthen pots. This easy-to-make sweet dish doesn't have any exact measurements, but it's in the first place because it's so popular and tastes so good. Mishti Doi is a light and a tasty frozen treat that is a must-have for any party.
Patishapta
Patishapta is a very popular Bengali dessert recipe that is kind of like a pancake. Bengal celebrates "Poush Sankranti," the rice harvest festival, by eating "pithe," a group of sweets made with rice, milk, coconut, dates, etc. Patishapta is a type of pithe that is made for these kinds of celebrations. It's a quick and easy Indian dessert that takes about 30 minutes, so that you can make it on the fly for breakfast or as a snack for unexpected guests. You can also put these in the lunch box for your child.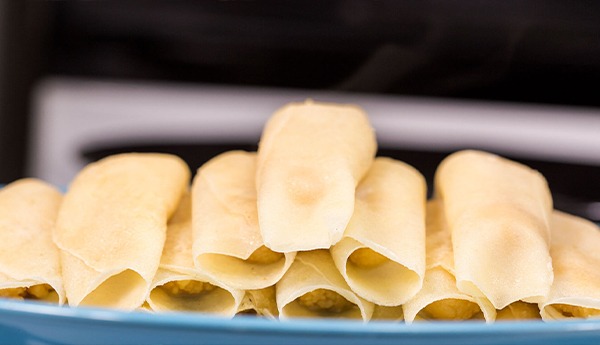 Bengali Rasgulla
Rosogulla is the most popular sweet dish that you can find in West Bengal. Cottage cheese from India, known as chenna, is the main ingredient in this dish, which is also cooked in sugar syrup. Bengali Rasgulla are the very tender and sponge-like dishes that are typical of Bengali cuisine; as a result, Bengalis find them to be the most reassuring. You can go to West Bengal to test Bengali Rasgulla personally.