December 22, 2022

Hobo Rover

0
Kerala's food is a beautiful mix of influences from Arabia, Malabar, and France, as well as a touch of the state's own culture. You can find a wide range of sweet and savory dishes from Kerala that taste real and will make you want more. Keralan food can take your breath away, from elaborate platters with a wide range of traditional vegetarian dishes made for festivals to non-vegetarian dishes that are just as tasty. Here are seven Traditional Food of Kerala that Hoborover, the best tourism platform, says you should try at least once.
Idiyappam
Idiyappam, a dish from Kerala that most people like, is one of the state's most well-known dishes. Idiyappam is a dish from Kerala that is made with rice flour, salt, and water. Thin strands of sevai are woven into the dish to give it a beautiful texture. This dish is also called Noolappam. Because of its texture, it can be worn in many ways. You can eat it with any kind of curry, but Egg Curry is the best.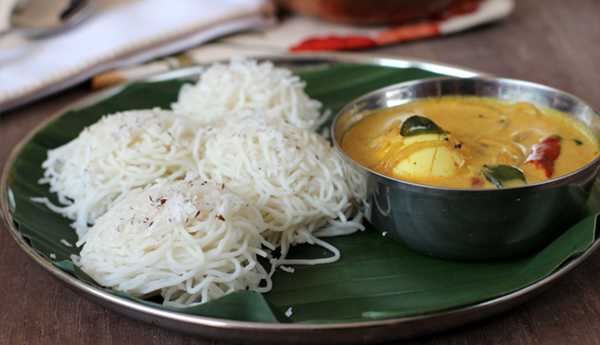 Palada Payasam
Palada Payasam is a sweet rice kheer made with palada. It is a treat that is part of the main food of Kerala and has won the hearts of foodies all over the country. Usually, the dish is made and served on happy occasions and festivals like Onam. Palada Payasam is the most popular type of payasam. It is made with simple ingredients such as rice ada, milk, sugar, and ghee.
Onam Sadhya
Sadhya is the traditional meal of Kerala. It is served with rice and anywhere from 12 to 20 different dishes in a fresh plantain leaf. This traditional meal is an important part of Kerala's most popular holiday, Onam. Kootan is the name for all of the side dishes together, and choru is the name for the traditional rice. Other dishes that are served with kootan are achar (pickle), puli inji (ginger-tamarind paste), pappadam, pazham (banana), kayyavarathathu (banana chips), moru (buttermilk), and parippu (dal and ghee paste). Kootan is made and tastes different in different ways. If you've never had a real Kerala sadhya before, don't forget to try one the next time you go to the state. Sadhya is easy to make, which is why it is the most common meal at weddings and other events in Kerala.
Thalassery Biryani
In Thalassery, the northernmost town in Kerala, there is a special biryani that smells and tastes great. This dish is made in the Malabar region of Kerala during the Eid holiday. It is made with kaima or biryani rice, an authentic masala made of certain spices and dry nuts, and meat that has been stuffed. Curd, lime pickle (naranga achar), and salad go really well with the dish.
Ada Pradhaman
Ada Pradhaman is another delicious type of payasam that you can get in Kerala. It is mostly made of pieces of rice batter (called ada) and sweet coconut milk. It is the most popular dessert dish in Kerala, and all you need is one spoonful to fall in love with it.
Banana Halwa
Cooking ripe bananas with ghee, sugar, cardamom, and dried fruits makes a thick paste-like substance. This dessert is easy to eat.
Kadala Curry And Rice
Puttu is a cylinder-shaped rice cake that is steamed and cooked with coconut shavings. Its name is just as cute as it sounds. This is a very popular breakfast food in Kerala, where it is also a staple food. This dish from Kerala is usually served with kadala curry, which is made of black chickpeas, but it can be eaten any way that tastes good.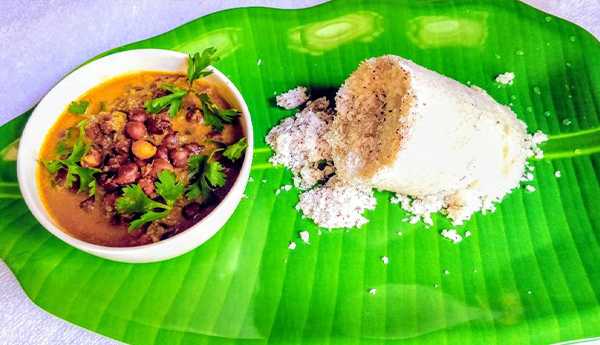 Appam
If you ask anyone from Kerala what their favorite dish from their home country is, they will say appam and stew. I think it's okay for them to do that because appam seems to be a big deal in the food world right now. It's a rice pancake with a soft, thick middle and a thin, crispy edge. No matter what you eat it with, appam will make that dish taste more than 100 times better. But it is usually served with a southern-style stew with chunks of any kind of meat covered in a silky, rich, dreamy coconut curry that will make you sad when it's over.
Kerala Banana Chips
Everyone likes to munch on something, and chips are the best snack for munching. Kerala people often eat banana chips as a snack (South India). Upperi or kaya varuthathu is sliced banana that has been fried in coconut oil and then sprinkled with salt. For this version, both ripe and unripe bananas are used, and sometimes they are covered in jaggery to make a sweet version. They are a very important part of Kerala Sadya, which is a vegetarian feast made for holidays.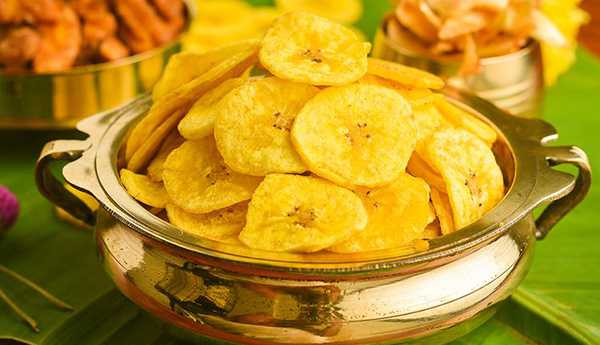 Pazham Pori
Banana fritters called Pazham Pori or Ethakka Appam are a popular tea time snack in Kerala. They are the best example of how to be good in a simple way. Bananas that are ripe and have been rolled in plain flour and fried in oil.