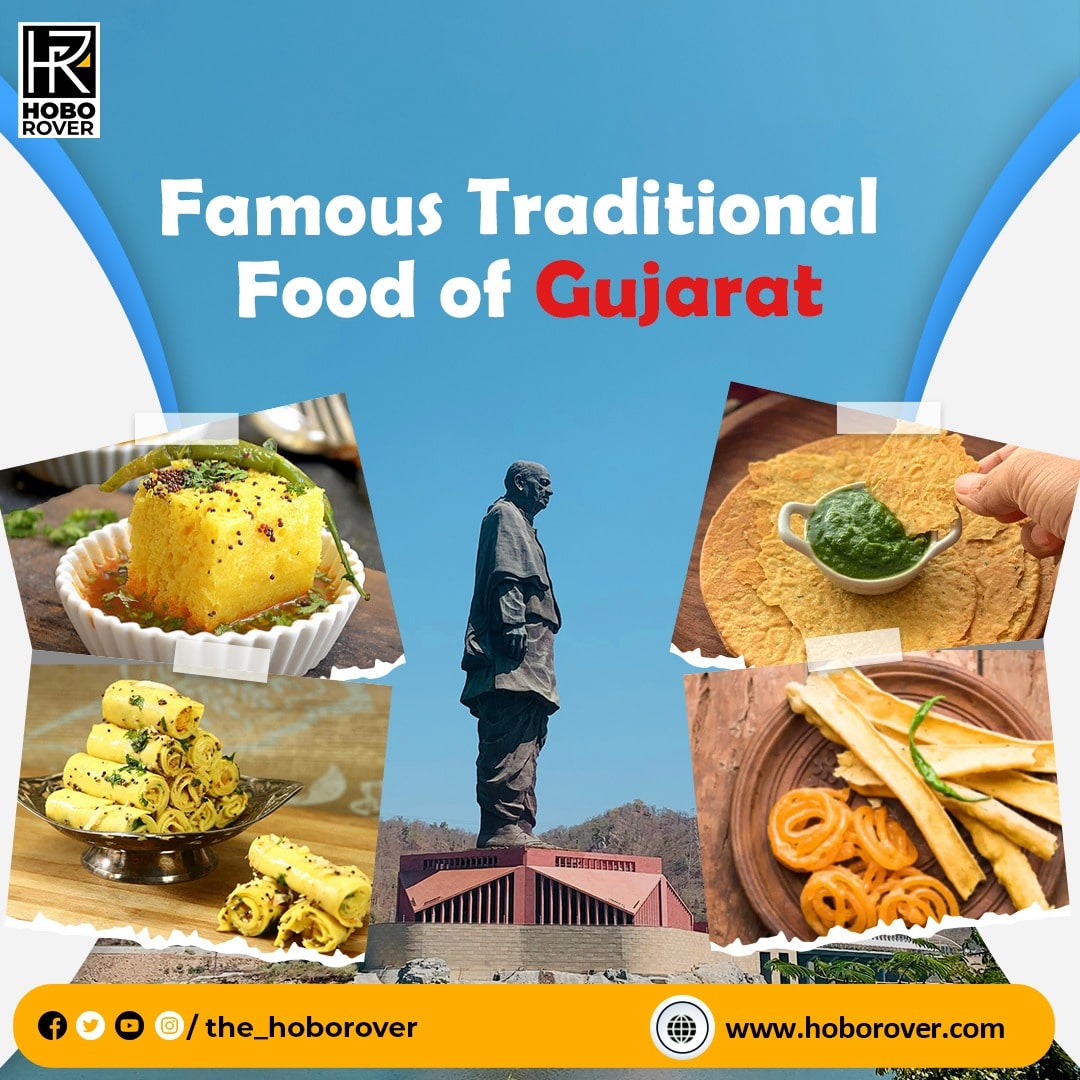 December 26, 2022

Hobo Rover

0
Dishes from Gujarat are irresistible because they feature an explosion of flavors, a rainbow of colors, and a hint of sweetness. You have arrived in a region of India that not only has a passion for food but also holds it in high regard as a way of life. It is a testament to how the Famous Food of Gujarat has hit the right notes with people all over the world that Gujarati food is enjoyed all over the world.
To think that the Traditional Food of Gujarat  is enjoyed all over the world is a testament to this fact. It is only appropriate that a culture that takes great pride in being welcoming, eccentric, and full of life has at least a hint of sweetness in everything that they consume. This would be fitting for the culture.
Getting the right mix of tastes and textures takes a lot of thought. You will find things that are rough, gritty, granular, smooth, even, dry, and so on. Also, don't forget all the sweets made from milk and milk products.
Let's look at the most popular traditional food of Gujarat, as per HoboRover, the best travel platform in the country:
Khandvi
Khandvi is made of thin layers of gram flour cooked with buttermilk and rolled up in mushy goodness. It is flavored with sesame seeds and a few other spices that have been sautéed. Curry leaves, coriander, sautéed cumin, mustard, and coconut give it a simple but fragrant topping that makes it hard to turn down. It is a popular snack in both Gujarat and Maharashtra. In Maharashtra, it is called "suralichya wadya." Even though everyone loves this dish, no one can deny that it is hard to make, especially when it comes to getting the batter right. Khandvi is easy on the stomach and tastes good. It can be eaten for breakfast or as a tasty snack in the evening.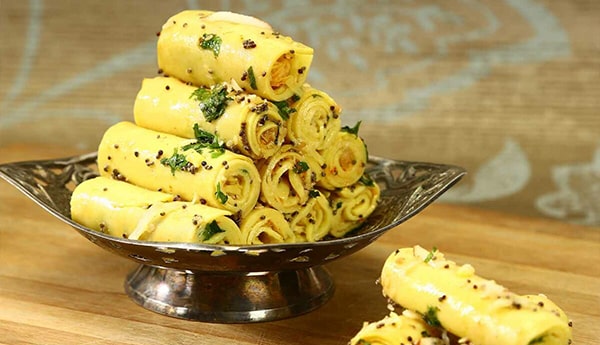 Dhokla
It is made with chickpea flour, water, and baking powder to make a thick batter. The batter is then steamed until it looks like a Victorian vanilla sponge. This makes the food feel light and airy. The soft dhokla is then seasoned with a mixture of oil, mustard seeds, curry leaves, and green chilis and stewed with a bit of salt, sugar, and water. This water is then poured over the dhokla, giving it a sweet and spicy taste. Most of the time, dhoklas are served with a coriander and mint chutney or a tomato chutney with freshly grated coconut on top.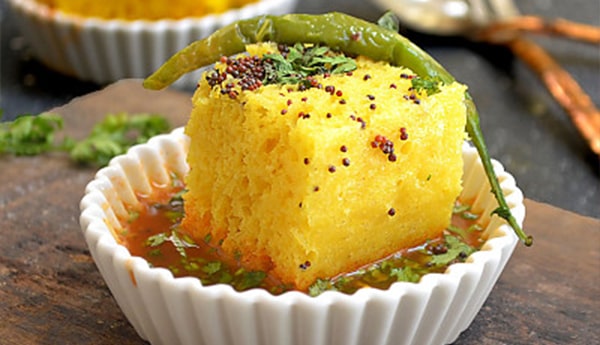 Thepla
Without this snack, no Gujarati trip, picnic, trip abroad, or even business trip would be complete. These flatbreads are made with gram flour, whole wheat flour, fresh fenugreek leaves, and spices. They are healthy and can last for a long time. They make healthy meals when served hot with fresh curd, pickles, or chundo. During the monsoon, they make a delicious breakfast or snack when served with a cup of steaming hot tea. Even though palak (spinach), amaranth, or muli (radish) theplas are especially good for picky eaters, methi (fenugreek) theplas are the most common.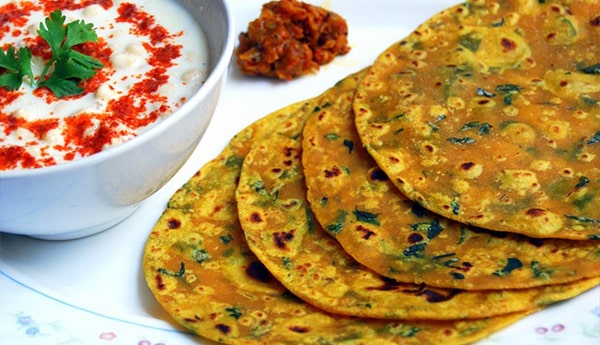 Dabeli
"Pressed" is what the word "Dabeli" means. It is a type of dish that is made with mashed potatoes, onions, tamarind chutney, coconut, pomegranate seeds, peanuts, coriander, and spices. This potato filling is put between two bread buns and cooked on a tawa with some oil. The buns are then pressed and flattened, which is what gives the dabeli its name. It is a fast food dish that is a little crunchy, salty, and flavorful.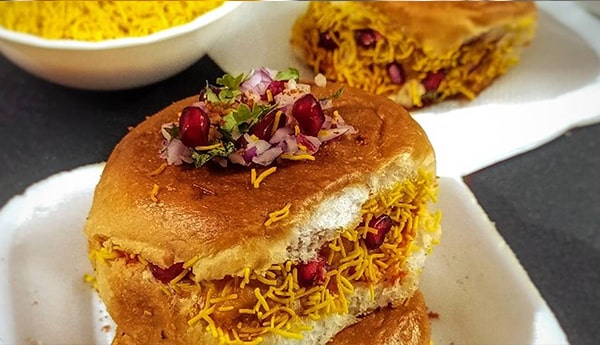 Jalebi Fafda
This is (almost) every Gujarati's dream cheat-day breakfast. The daily soap "Taarak Mehta ka Ulta Chashma" made it very well-known. Fafda is a crunchy snack made of chickpea flour that is deep-fried, and jalebi is a sweet pretzel made of wheat flour and dipped in sugar that is deep-fried. Together, they are a perfect match. When you eat a piece of crunchy, salty, and spicy fafda with a piece of crunchy, sweet jalebi, you are sure to be in food heaven. If you add a fried chili or a bit of dry papaya chutney to this, your taste buds will explode with joy. There is a shop selling these on almost every street corner in Gujarat, especially in Ahmedabad. On Sundays, people wait in long lines in front of farsani shops to eat this delicious duo for breakfast.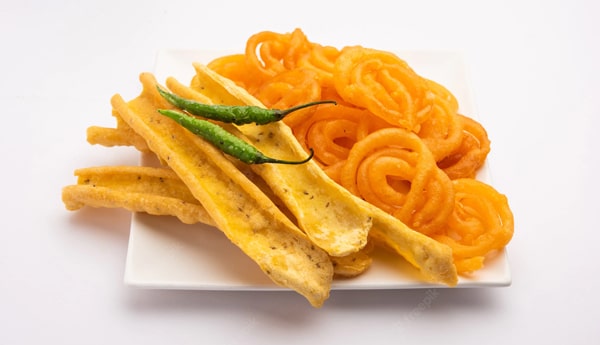 Khakhra
Khakhra is a thin cracker made from moth beans and wheat flour. With a few carefully chosen spices and a bit of oil, you can make these tasty crisps that don't need to be fried. Khakhras are a popular thing to eat with breakfast and as a light snack in the evening. Not only are they light and tasty, but they are also good for you. There are a lot of different tastes in these tasty thin crisps that look like tortillas. Methi and masala are two of the most common flavors, but now it's easy to find creative and interesting ones like Pav Bhaji, Pani Puri, Pizza, Garlic Bread, Chaat Masala, Manchurian, Instant Noodles, Vada Pav, and many more. As crazy as it sounds, khakras really do come in these flavors.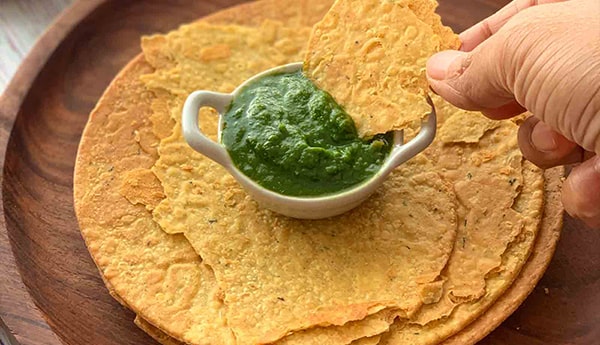 Mohanthal
Mohanthal is a soft, fudge-like sweet made from sweetened gram flour (besan) and spices like saffron and cardamom, as well as nuts like almonds and pistachios. It is a signature dish in many Gujarati homes, and each housewife adds her own special touch to this traditional recipe. It is a simple, homey dessert that is said to be Lord Krishna's favorite. It is made with a lot of love during the Janmashtami festival. Even though it is a traditional dessert, it is sometimes made to satisfy an unexpected sweet tooth. It can also be eaten as a snack with tea, and all mithai shops in the state sell it.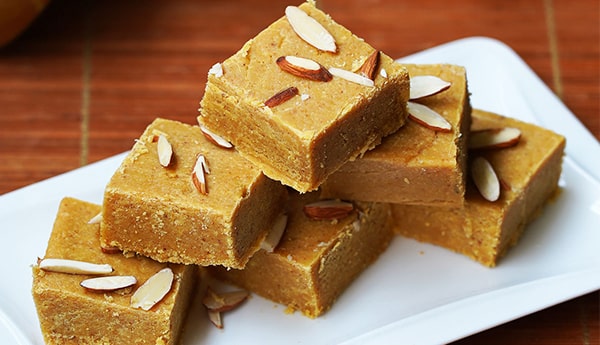 Basundi
In many parts of India, basundi is also called rabri. It is a dish made by slowly boiling and reducing milk for a long time. This gets rid of the water in the milk, which makes the sugars and fats in the milk more concentrated and gives the milk a natural sweetness. Most often, cardamom, sugar, and saffron are used to add flavor. In some updated versions of this traditional recipe, tropical fruits like custard apples, mangoes, dates, almonds, and pistachios are added. Basundi is always served cold, and shaved almonds, pistas, and cashews are usually sprinkled on top. Most of the time, it is eaten with hot puris, which is a popular pair.