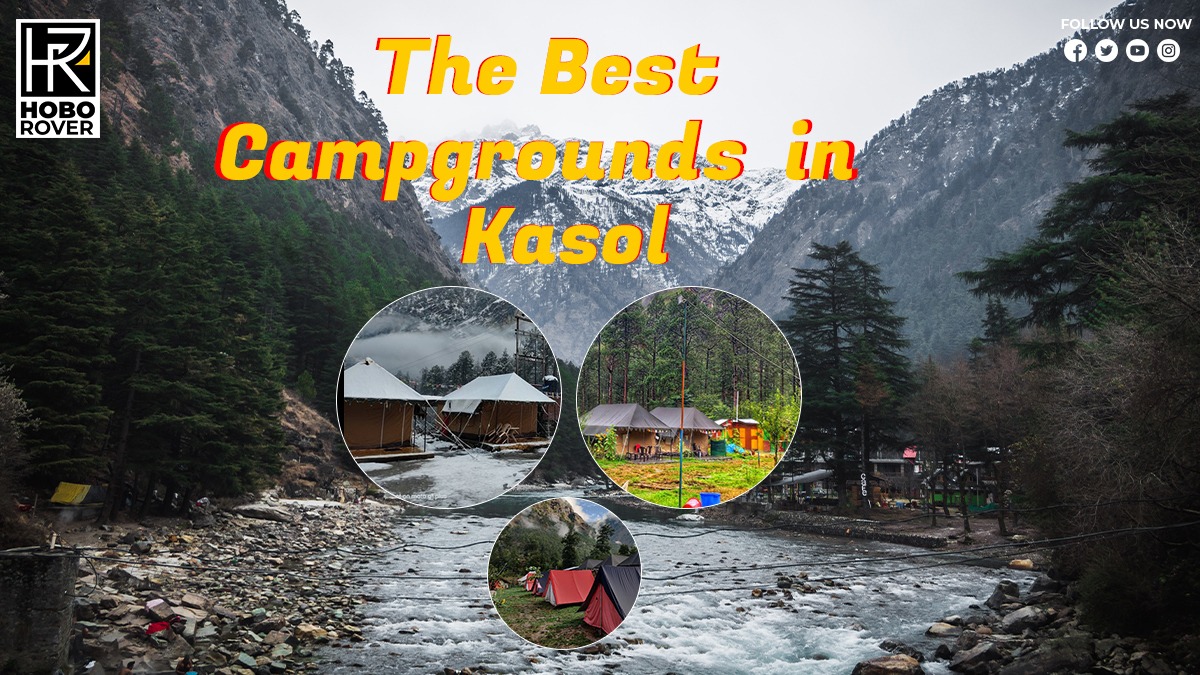 January 31, 2022

Hobo Rover

0
Kasol is a picturesque village in Kullu. Situated on the banks of River Parvati, Kasol is one of the most happening destinations in all of North India. Often referred to as "Heaven's Getaway," Kasol is loved for its scenic beauty, amazing landscapes, pleasant environment, and interesting culture. Protected from the rest of the world by its location high up in the majestic Himalayas at an altitude of almost two miles (3 kilometers), Kasol is a huge crowd-puller and perfect for tourists looking to relax and get away from it all for a bit! Read this blog by Hobo Rover, the emerging travel information website, to know more.
Best Time For Camping in Kasol
When it comes to camping, there are only a few months which are suitable for Camping in Kasol. The monsoon isn't among them. There are heavy road blockages and the incidence of natural calamities in the monsoon season. This is the reason why tourists avoid coming for camping in the monsoon season.
The months from November to February come under the winter season. This is the time when the entire valley is covered in layers of snow. People who love snow and want very low temperatures during their visit should come in the winter months. We must warn you that these months might be eye-catching but staying in camps in such cold is too tough for an average tourist coming from warm states.
The best months to come for Camping in Kasol are from March to June. These are the best months as Kasol gets cooler than many other states of the country. Also, these months provide summer holidays for children, so that you can enjoy with your family while camping. The average temperature during this time ranges from 15 to 20 degrees Celsius. You will also find numerous parties and DJ events happening in these months.
Best Places For Kasol Camps
Kabila Camps
This is one of the most favorite locations for tourists to camp. Kabila Camps have located alongside River Parvati and in the midst of surrounding mountains. They're one of the most favored camping sites among tourists traveling to Kasol. From a Swiss tent on a waterside or a traditional tent in the lower mountains, all of Kabila's packages will fit your budget because they offer customized ones as well.
Orchard Camps
Tucked away from all the bustling metropolis, Orchard Camps is an ideal destination to rest and rejuvenate into the soothing rhythm of flowing water in River Parvati. Surrounded by nature's breathtaking beauty, this campsite will let you breathe fresh air and indulge in an array of exceptional experiences including hiking and sightseeing.
Jalpa Camps
Offering peaceful escape into the magical realm of nature, Jalpa Camps is one of the mountain camps on a hillside in Kasol. One more thing about Jalpa Camps is their soothing and delicious food. The food will force you to visit these camps whenever you plan Camping In Kasol. This is among the most popular camp restaurants in Kasol. When it the time to sleep, the natural sounds of the mountain breeze and the running river will take off all your worries.
Average Cost Of Camping in Kasol
Every camping site in Kasol has its own pricing for the accommodation. The first thing that you need to find out is the total period that you're looking for and explore their packages accordingly. You should always do online research before finalizing any deal from the locals or even from a big online portal. The best way is to work on a word-of-mouth basis and talk personally with people who have already been there and done that at some point in time.
But it is important to keep a track of your budget as well because when it comes to various activities like paragliding, rafting, mountaineering, and canoeing, you might get carried away a bit and might end up spending more than you had initially planned on.
Continue reading blogs by emerging travel information website, Hobo Rover, to get more information about travel and tourism.