January 31, 2022

Hobo Rover

0
Kasol is called mini-Israel and this village is situated in Himachal Pradesh, India. It's a beautiful place that has many places to visit. These include rivers, waterfalls, temples, and more. Kasol is a wonder to behold, with an air that mystifies your senses and makes you live in the moment. Kasol is ideally located in the Parvati Valley, which is one of Himachal Pradesh's popular destinations for travelers. There are numerous Places To Visit In Kasol and Top 5 Things To Do in Kasol. Read more about those in this blog by Hobo Rover, the emerging travel information website.
Kasol is famous for its thrilling treks, and flavorsome cuisine – Tandoori Chicken or Rishta (Chapati) with Paneer being some of its must-try delicacies! The village is filled with people who are genuinely kind and good-natured – they understand that enjoying life means taking time to slow down. And the best part? Kasol has breathtaking views and even at the height of summer, it rarely gets unbearably hot here – making this a wonderful tourist spot to visit throughout the year.
Here are the 5 best places to visit in Kasol:
Parvati Valley
This valley is known for its beauty and attracts tourists from all over the world. The river Parvati originates from the glacier of the same name and flows through Kasol before emptying into the Beas River at Haridwar in Uttarakhand. This valley comes on the top when someone thinks of Places To Visit In Kasol. To reach the Parvati Pass's peak at 5,319m takes you across slopes slippery with ice and snow, peaks so stubbornly resistant to your mounted efforts, and views that make every step worth the pain. You are getting three things in one. The first is that it's a truly empowering way to get over whatever adversities you might be facing in your own life. Similar is the case with trekking on other mountains like Nanda Devi Peak – a world heritage site that is known for its vigorous beauty.
Kheer Ganga
If you are planning to visit Parvati Valley, there is no way you should leave Kheer Ganga behind without visiting. Tourists enjoy the trekking experience of this village a lot. It is this village where that feeling of accomplishment is way above the exhausting nature of the trek. Tosh is the starting point of the trekking journey, from where it is 13 km one way. For an average tourist, it takes almost 6-7 hours to complete this amazing trek.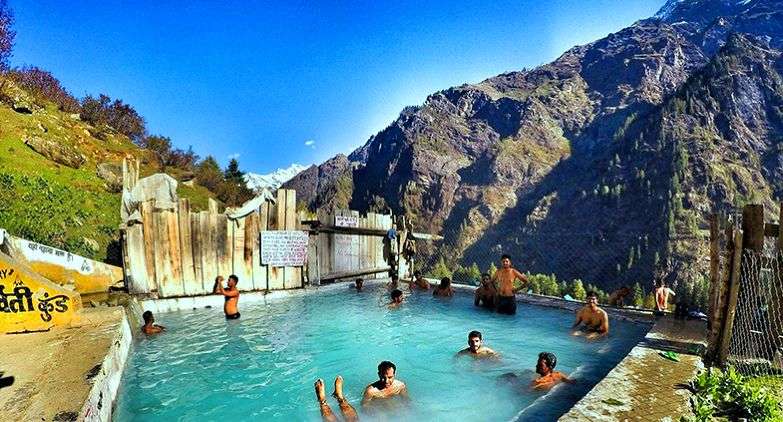 Manikaran
The Parvati Valley near Kullu, Himachal Pradesh is home to countless waterfalls including the famous Manikaran Sahib, a temple that is revered for its unique ability to cast spirituality over the heart and mind of all of those who visit. With Hindu scholars preaching that life was created in this very place after the place got once flooded and washed away all the demons with it, Manikaran Sahib came to be known as one of India's holiest sites thanks to this mythological tale.
Bhuntar
Another one of the best places to visit in Kasol is Bhuntar.To get a view of the rising sun, one should visit Bhuntar. It's situated at a distance of 30 miles from Kasol, near the end of the Parvati Valley in India. Every place in Himachal Pradesh is unique, including Bhuntar. To be specific, it's about how its roads wind up steep inclines or switchbacks making way for visitors to trek through its streets.
Naggar
Zoom in on this next amazing travel destination, Naggar. This captivating village is located along the Beas River and is approximately 18 kilometers away from Kasol, which is a short journey of around 3 hours by bus or 5 hours of trekking. The village has some breathtaking views including sunrises and sunsets visible throughout the day as well as some epic hiking trails that are well worth a look during the daytime. Naggar Castle was originally built around 1460 A.D and given its historical background, it offers visitors an unforgettable experience at the elevation of 2,047 meters.
We hope you enjoyed our article about the Best Places To Visit In Kasol. With this knowledge, we know that you can make the most of your vacation and discover the hidden gems in Kasol. So, what are you waiting for? Subscribe to Hobo Rover, the emerging travel information website, blogs and plan your Kasol visit simultaneously.