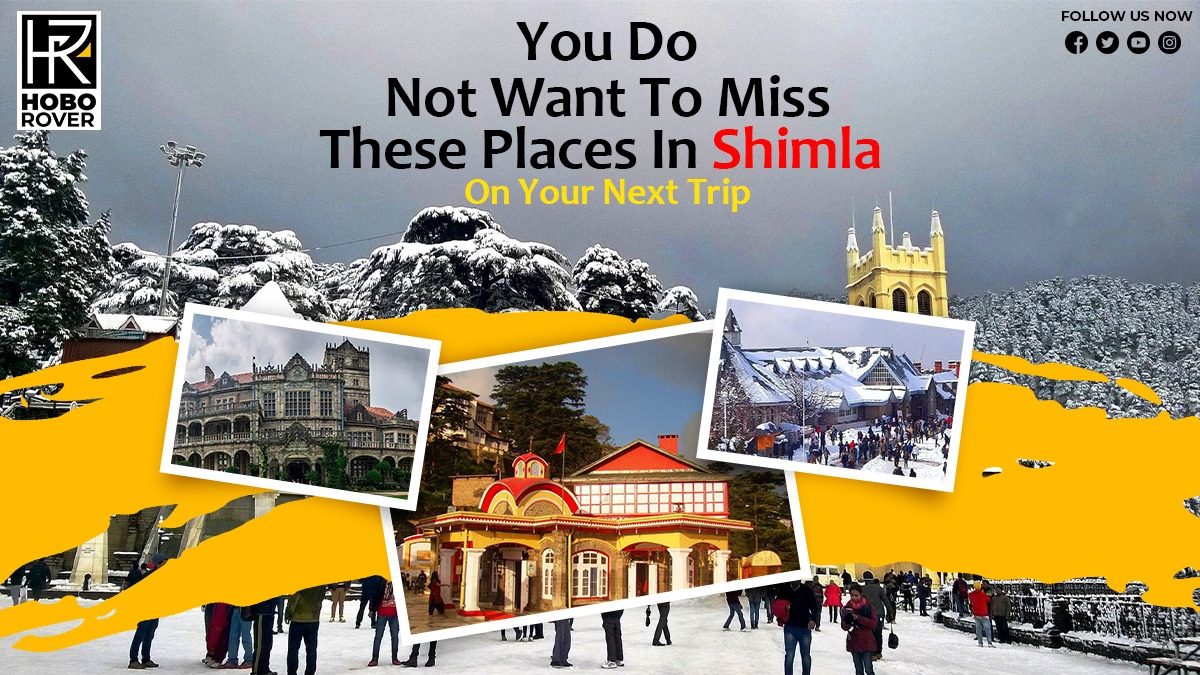 February 15, 2022

Hobo Rover

0
Shimla is a place that attracts all of us as it offers an escape from the hustles and bustles of everyday life. And while most of us chose to relax in Shimla, there are a few, who look for exciting things to do and Places to Visit in Shimla , to make it an experience worth remembering. Shimla city is surrounded by beautiful places and captivating scenes to enjoy.
But most of the people do not know about these places and they miss amazing experiences. Many lesser-known places in the city are just waiting to be explored. You do not want to miss these Places in Shimla on your next trip:
Shimla Ridge
If there is some phrase that can describe this place, it is – "epicenter of all tourists activities". The ridge of Shimla is connected to every other major tourist place like Mall Road, Scandal Point, and Lakkar Bazar. Every year in April or May, this place holds the best Summer Festival in Shimla. Shimla Ridge is filled with architectural wonders, beautiful greenery, and scenic landscapes. You can also indulge in shopping, dining, and even nightlife at this place.
Jakhoo Hill
The highest point in Shimla, Jakhoo Hill is often a relaxing place to visit for tourists searching for some peace away from the hustle and bustle of Shimla's downtown area. Covered with beautiful alpine trees, hikers often visit the hill's most popular spots: the Hanuman statues as well as the Jakhoo Temple. Hiking on this hill enables tourists to smell fresh air while feeling their heart rates slow down, making it clear that it is indeed one of the best places in Shimla where tourists can venture off to in search of tranquillity.
Viceregal Lodge
Easily the most significant historical landmark of Shimla, this stately building that was once the summer residence of India's viceroy is now a haven for history and architecture buffs. Today, the Viceregal Lodge retains its pristine beauty and charm with advanced university complexes having been added to its premises. The entry to this magnificent building itself has been limited to a few chosen staterooms as part of a tour of this grand building mainly encompassed by impeccably maintained gardens.
Tara Devi Temple
It is one of the most famous and religious sites in Shimla. Located around 20 minutes from Shimla on the Kalka-Shimla Road, it sits atop a hilltop overlooking the city and is especially revered by visitors to Shimla who come here when they want to honor the goddess Tara.
Chadwick Waterfall
Chadwick Waterfall is a remarkably gorgeous waterfall near Shimla. One of its most striking features is that the falls are very close to Shimla yet are hidden away in an undisturbed corner of Glen Forests. This undisturbed location makes it even more appealing to tourists as they explore the area during their visit here. Chadwick falls is smaller than other waterfalls. It has a height of only 100 meters. What makes the waterfall amazing is the trek through the lush forests. These forests which surround the area make up for what it lacks in terms of grandeur.
The beautiful city of Shimla has also been termed the Queen of Hills. It is an ideal destination for nature lovers. There are many places that you must visit in Shimla. There is no dearth of Places to Visit in Shimla. However, due to lack of time, people usually miss a few places in Shimla that are worth visiting. In this article, we have talked about some of the places in Shimla that you must visit on your next trip. We hope you enjoyed reading about those places and will include them on your next trip. Do not forget to subscribe to Hobo Rover, the Best Travel Information Website.