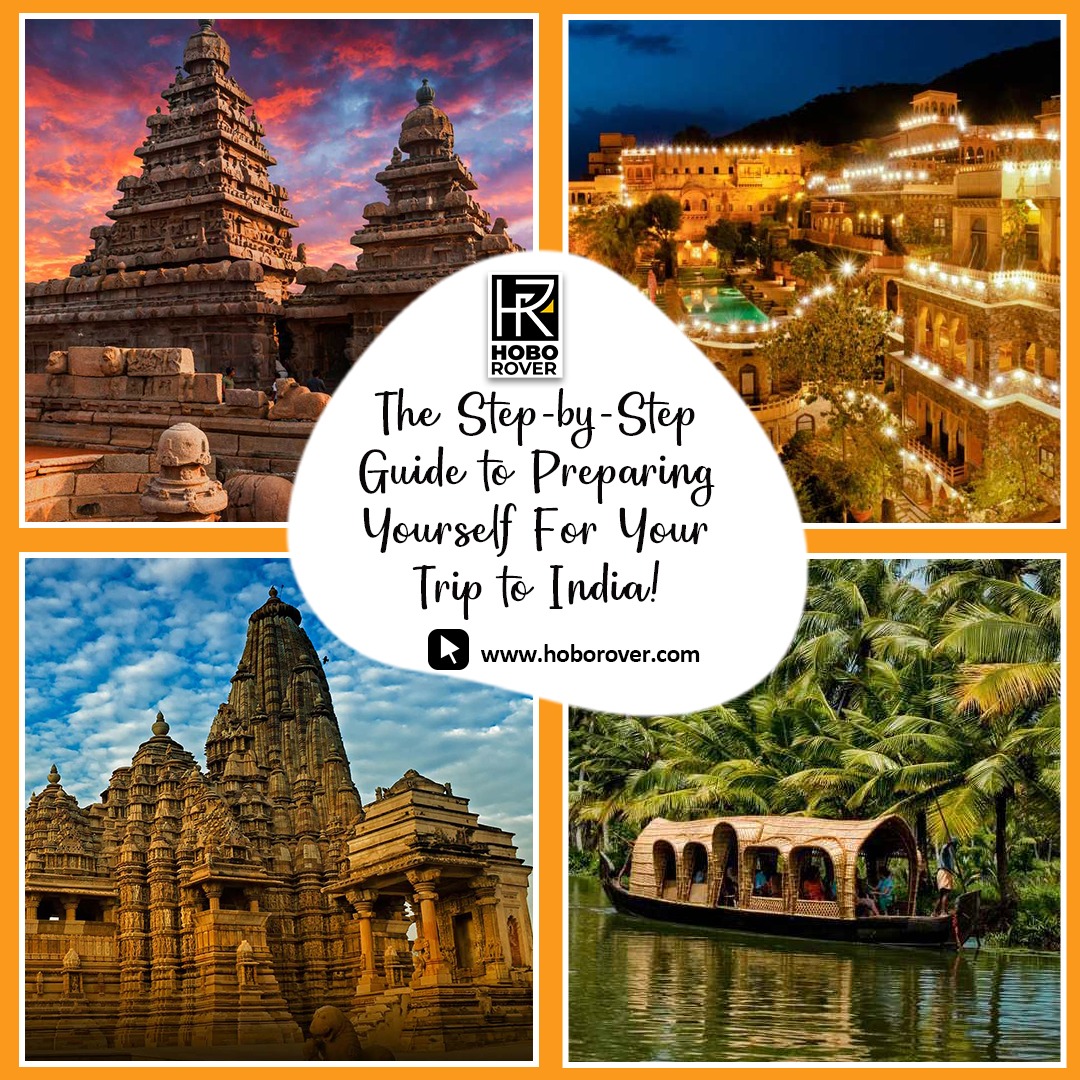 October 19, 2022

Hobo Rover

0
Before you set off on your trip to India, you should prepare for it. Whether you are traveling for work or pleasure, this country is known for its rich culture and heritage, which makes it an exciting place to visit. However, with so many things that need to be taken care of prior to traveling, packing your bags and leaving for India might seem a bit overwhelming at first glance.
Traveling somewhere new requires some precautions and planning. If you're thinking of traveling to India any time soon and want to get ready beforehand, keep reading! This guide by Hoborover, the best travel advisors in Delhi, will help you plan the perfect trip to this beautiful country.
Keep Your Documents Ready for Trip to India:
For the duration of your trip to India, you will require several documents and electronic papers. The essential pieces for this trip are your passport, visa, medical certificates, hotel reservation information, tickets, license, and rental permission. To manage your electronic papers on your phone, you may either download an app or mail each document to yourself as an attachment. Always have a set of backup pieces on your phone or tablet in printed form. You may purchase a folder that stores your physical documents, such as your passport and other items, in one location or designate a separate bag for them. Keep all of your required paperwork close at hand and in your wallet.
Plan Your Entire Budget:
Make a budget in advance. You should include the following categories in your budget: travel, lodging, dining, entertainment, and backup. You may focus on the remaining tasks if you have already made arrangements for your trip and accommodation. Discover how to obtain the most acceptable bargain as well. You can ask your travel agency for advice on your ideal travel arrangement. Check the seasons for low price ranges as well. You may also learn about the many lodging alternatives and other choices offered in India so that you can select the one that best fits your budget. Put the backup cash in your pocket and forget about it; don't dig it up or rely on it.
Fix the Destinations:
In India, there are many places to visit, including Mumbai, Andaman & Nicobar, Darjeeling, Ladakh, Pondicherry, Madurai, Kerala, and others. Other packages transport you to several locations connected by a common interest, such as animal tours, beach retreats, and so on. Choose a place depending on your preferences, who you are traveling with, the season you are traveling in, your budget, and the number of vacation days you have. Regardless of how distinct your tastes are, there are a variety of places that would fit you. The most accessible approach to choosing a destination depends on the time of year you are traveling and whether any festivals are taking place there.
Make a Rough Itinerary:
This stage is a little challenging. You must plan an itinerary, but be careful not to spend too much time on it. Everything that has to be done during the journey cannot be predicted. You might not have fun if you intend to follow your schedule no matter what transpires. Make an itinerary based on the sights you need to see each day. If time allows, you may take it all in or appreciate it as it comes. Research the location, the city's attractions, the attractions nearby, the travel time, the typical amount of time spent at each draw, the crowds, the traffic, and other factors before drafting an itinerary. Your schedule ought to reflect reality.
Get Your Tickets Ready For Trip to India:
There are several travel agencies where you may purchase a ticket. To purchase tickets, visit the official website. Additionally, you may buy rail tickets online. You should take a train excursion if you're visiting India. It would be a fantastic opportunity. If at all feasible, try to bargain for lower prices.
Book Your Stay:
You must reserve your lodging, travel, rental vehicle, and any other services you might want while in India. India may be a country with exceptional hospitality. However, it is a significant issue if you arrive in India and are unsure of which hotel to check into. If you are unsure of your destination, choosing a private transportation service might be challenging. Since you are a foreigner, they may try to negotiate favorable pricing with you. Reserving your lodging and paying for hotel pick-up services is always preferable. If not, you will be given the name of the hotel and be free to select your method of transportation to get there.
Get the Vaccination Done for Trip to India:
See a medical expert to determine the immunizations you require before traveling. If you intend to bring your children along, this excursion is necessary. After all, you wouldn't want to spend the entire week in bed at your hotel with a fever and an illness.
Pack the Bags:
After finishing all these processes, you may start organizing your luggage. Make a list of everything you require. Don't forget to research the local climate before traveling. Prepare your wardrobe appropriately. Travel without stress by packing as little as possible. You cannot fill some items until the departure time is approaching. List the things you need, such as your wallet, debit cards, etc. Before leaving your house, be sure to check through this list.
Conclusion
While not everyone feels compelled to visit India, those who do frequently have a strong desire. While visiting India might completely transform your life, it is not without challenges. While some tourists feel drawn to India, others believe it is too tough to visit; traveling in India may be challenging. We created this step-by-step manual to facilitate your journey. Contact our knowledgeable travel consultants for further details.