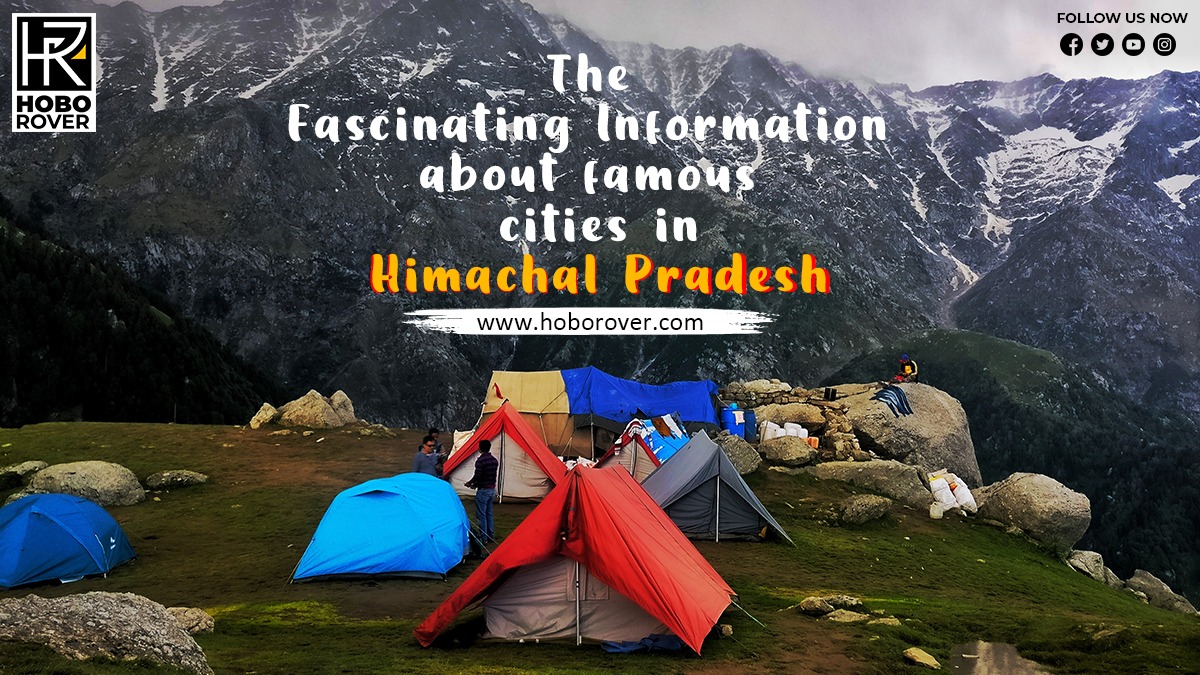 February 1, 2022

Hobo Rover

0
Himachal Pradesh is situated in the northern part of India. The Himalayas surround it on three sides, making it one of the most beautiful states in India. It has an area of 55,673 sq km and borders Jammu and Kashmir to the north, Punjab to the west, Haryana to the southwest, Uttar Pradesh, and Uttarakhand to the south. Himachal Pradesh is one of the most loved places by travelers in the country. It also has a rich cultural history. There are many Cities in Himachal Pradesh that hold importance to Hinduism. Read this blog by Hobo Rover, the emerging travel information website, to know more about Himachal Pradesh and its cities.
The History of Shimla City and How It Came To Be the Capital Of Himachal Pradesh
When it comes to thinking of Cities in Himachal Pradesh, Shimla is the first thought in mind. Shimla is the capital of Himachal Pradesh. It was established in 1864 by British rulers. Shimla was born in its modern incarnation thanks to the British's decision to build a railway through the area. In 1903, the Kalka-Shimla Railway line was completed, bringing an influx of workers and increasing Shimla's population significantly. It did not take long for this 21st-century transport system to have a positive impact on Shimla itself, despite being so far away from everything else then.
The completion of the Kalka-Shimla narrow-gauge railway line, in 1903, gave a fillip to development. After Independence, Shimla temporarily served as the capital of Punjab. By 1966, Shimla had been selected as the capital of the newly formed state of Himachal Pradesh.
The British finalized Shimla as their summer capital because it had a cooler climate than other parts of India. The city was built on the Himalayan foothills and it has breathtaking views of snow-capped mountains in the background.
Kullu Valley – One of the Largest Valleys in Himachal Pradesh
Situated in the northern highlands of Himachal Pradesh, Kullu Valley is one of the largest valleys in the region. Being one of the most beautiful cities in Himachal Prades, this valley is known for its scenic beauty and serene landscape.
The valley's economy is mainly based on agriculture, horticulture, forestry, handicrafts, and tourism. However, it has seen a number of factories being set up in recent times to manufacture products for exports.
Kullu Valley is one of the most popular tourist destinations in India with its picturesque landscapes and serene mountains as well as a rich cultural heritage. The area also has many stretches of apple orchards that provide you with some traditional tastes like apples dipped into honey or mixed into yogurt that will help you relax during your holidays here.
Shogi – Among Major Tourism Cities In Himachal Pradesh
Shogi is a major tourism hub in the Kullu district of Himachal Pradesh. It is located near Kotkhai and is around 25 km from Manali. The village has a number of attractions like a shogi temple, shogi village, and Shogi Waterfalls.
The Shogi Village and Temple near Manali is one of the favorite tourist Cities in Himachal Pradesh. It houses a temple dedicated to Lord Shiva which, according to legend, was built by Pandavas during their exile. This place also houses small shops selling curiosities, woolens, handloom items, etc.
The state of Himachal has always been a magnet for the adventurous. It is the perfect place to escape the monotony of daily life and indulge in some fun and frolic. The state has a rich and interesting history, which has contributed to its distinct culture and tradition. The different cities in Himachal Pradesh, each with its own distinct features, have also played a role in shaping the state's history. The cities have also had their share of ups and downs, but through it all, they have managed to retain their distinct charm.
We hope you have enjoyed this article by Hobo Rover, the emerging travel information website. Do follow our blogs regularly to know more about various travel places in the country.