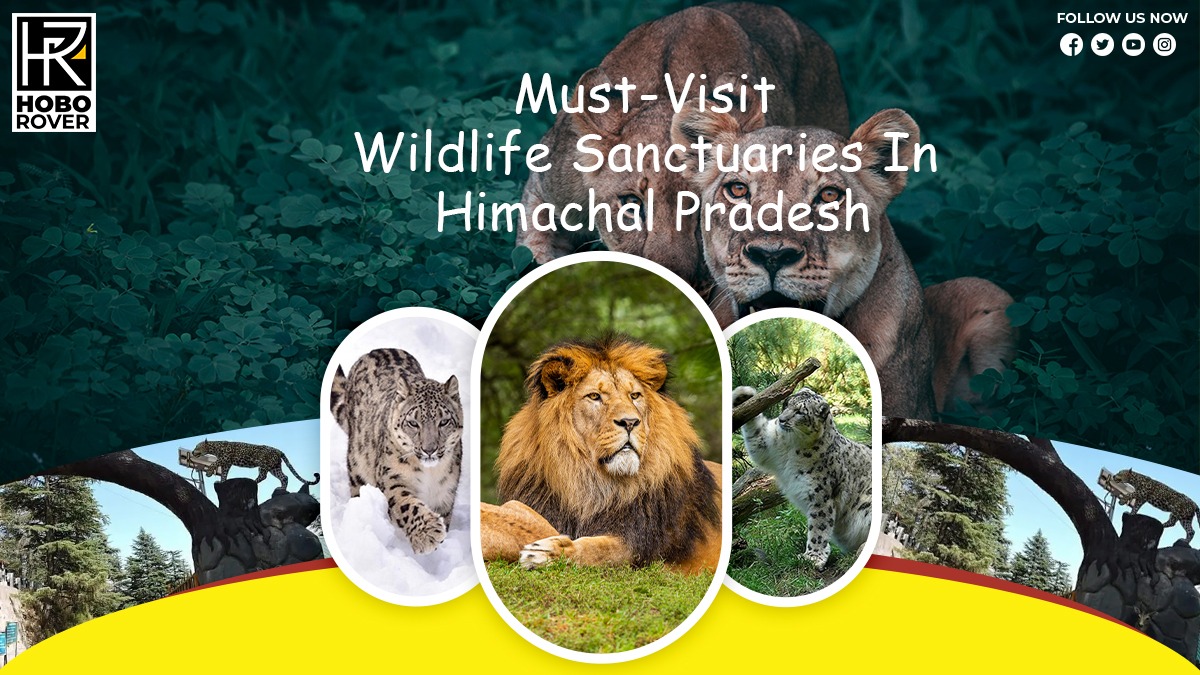 February 16, 2022

Hobo Rover

0
The world is shrinking day by day. We can reach out and touch people who are living on the other side of the world with a mere click of the mouse. But, this shrinking of the world has made it difficult for us to rediscover our own backyard, which is the home to a plethora of fascinating stories and a plethora of wildlife. To overcome the artificial world, there are numerous Wildlife Sanctuaries In Himachal Pradesh that can offer you natural relaxation.
In this blog, we will be taking a step back from our hustle-bustle to see what Himachal Pradesh, India, has to offer to the wildlife enthusiast. Here is the list of the top 5 Wildlife Sanctuaries In Himachal Pradesh:
Daranghati Wildlife Sanctuary
On top of our picks of wildlife sanctuaries in Himachal Pradesh is Daranghati Wildlife Sanctuary. In the Kangra area of northern India, Daranghati Wildlife Sanctuary is one of many places to see as you travel through some amazing mountains. The heart of Himachal Pradesh is home to this wonderful wildlife sanctuary that is known for its beautiful and dense forested areas hosting a variety of diverse wildlife species like peacocks, sambars, and langurs for example. If you have the opportunity to visit Darangati Wildlife Sanctuary in Kangra, you might get more out of your trip if you make plans ahead for traveling outside of your hotel on-site – even if just to go hiking or biking on nearby trails!
Kalatop Wildlife Sanctuary
The tranquillity that is felt when visiting the Kalatop Wildlife Sanctuary will truly demonstrate its full value through the many species of birds, cats, and other animals that inhabit the area. There are blue pheasants, peacocks, red junglefowl just to name a few of the majestic creatures found here as well as plenty of felines including tigers and leopards. For those who love lush green scenes with scenic riverbanks, there is also plentiful flora to be seen without fail such as magnolia trees!
Kanwar Wildlife Sanctuary
Next in the line of wildlife sanctuaries in Himachal Pradesh is Kanwar Wildlife Sanctuary. It is a beautiful yet quite large forest (approximately 300 km. in radius) that is considered to be well maintained because it is one of the finest wildlife sanctuaries in Kullu, which also happens to be India's northernmost state. There are several animals and plants that live here year-round, especially in the summer months such as yellow-throated martens, flying squirrels, snow leopards, brown bears, and golden jackals. The sanctuary's natural scenery is miraculously breathtaking due to its river streams and valleys with extremely friendly locals. It's a tourist destination that attracts many via the roads leading north from Manali and McLeod Ganj area known for more attractions compared to just temples or mosques as one would find in other areas of Himachal Pradesh.
Khokhan Wildlife Sanctuary
Kullu is just a few kilometers away from Khokhan, an amazing wildlife sanctuary in Kullu that is home to an incredible variety of mammals and reptiles. The Himalayan black bear is a subspecies of the brown bear that can be found in the British Columbian part of Canada, Pakistan except for the India-controlled territory along with the Amur district of Russia as well. The different seasons have their importance in visiting wildlife sanctuaries around Kullu like Khokhan Wildlife Sanctuary. Kullu being close to Khokhan is one of them. Tourists touring nearby Himachal Pradesh whilst on route at or through Kullu find this sanctuary midway in between attractions such as Naggar Castle and Manikaran Temple.
Chail Wildlife Sanctuary:
Tagged as one of the best wildlife sanctuaries in Himachal Pradesh, Chail Wildlife Sanctuary is a jewel in Himachal Pradesh. It was established in 1976. Blanketing an incredible variety of wildlife species, this sanctuary features some of the most beautiful creatures to be found anywhere! Sambar Deer, Cheer Pheasant, Crested Porcupine, Leopards, Himalayan Black Bear, and Wild Boars are just a few of the many stunning types of wild animals that you can expect to catch sight of when visiting this sanctuary.
We hope you enjoyed this blog about Wildlife Sanctuaries In Himachal Pradesh. If you're in or planning to visit India, we highly recommend that you visit this beautiful state. To make sure you have the best possible experience, make sure you check out our other blogs so that you can learn about the best places to visit and things to do in Himachal Pradesh, including our blog about the Best Places to Visit In Himachal Pradesh.