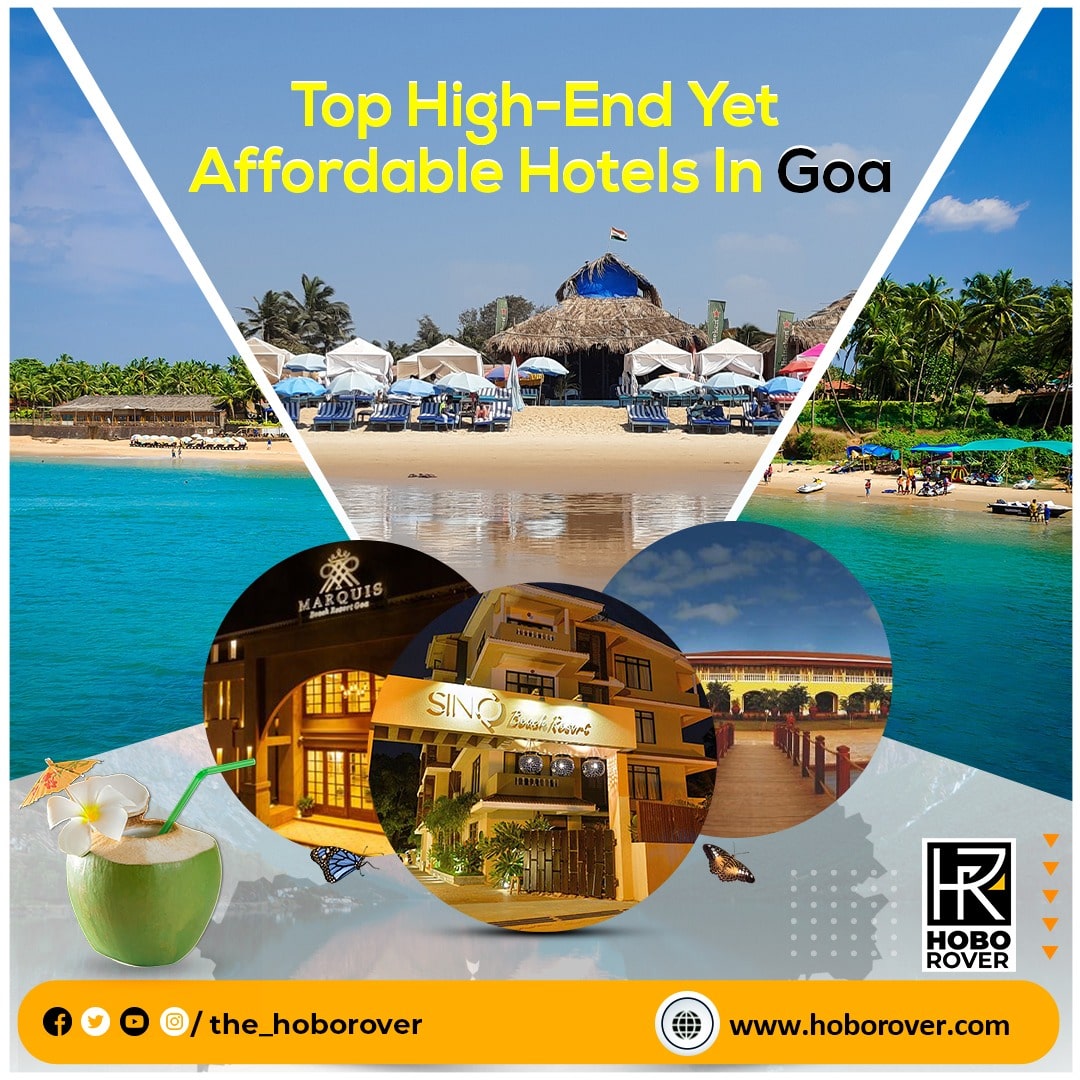 December 16, 2022

Hobo Rover

0
Goa is a sprawling and lively beach town home to many tourist attractions, including beaches, heritage forts, churches, eclectic nightlife, and delectable seafood. The most reputable hotels in Goa provide us with luxurious accommodations and up-to-date and user-friendly amenities. Goa's chic streets and hotels have been heavily influenced by traditional Portuguese architecture and designs that draw their inspiration from the country's colonial past. Hoborover, the best travel information website, provides with the best hotels in Goa that includes swimming pools, fitness centers, spas, and Best Restaurants in Goa that offer both upscale cuisine and seafood dishes.
The Lalit Golf & Spa Resort Goa
If you want privacy by the ocean, the best place to stay in Goa is the Lalit Golf and Spa Resort, one of the best luxury hotels and resorts. This hotel has some of the most beautiful views you will ever see. It is near the peaceful Talpone river and the Sahyadri ranges. This one-of-a-kind, beautiful Lalit Golf & Spa Resort Goa has grand Baroque-Portuguese architecture, grand lobbies, an international golf course, majestic staircases, and international food. There are 255 suites and 10 luxurious villas where you can relax and recharge.
Marquis Beach Resort Goa
Marquis Beach Resort Goa is a small property on the beach that sets the standard for luxury with its unique beauty and charm. In addition to its high standards of luxury and service, the resort's beauty on Candolim Beach and its modern luxury make it a great place to stay. This luxury resort in Goa exudes a sense of refinement from its careful attention to detail. During your stay at Marquis Beach Resort Goa, you'll notice little things like the sand-colored facade that adds to its striking architecture, the Goan accents that pay tribute to the country's rich cultural history, and the artful accents that are both timeless and modern that can be found all over the property.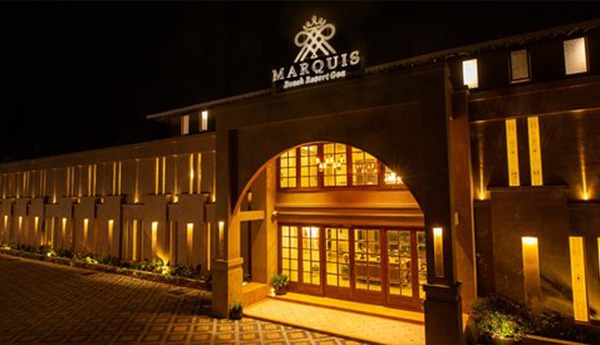 SinQ Beach Resort Goa
The SinQ Beach Resort Goa, which you can find just a few minutes away from Calangute beach, is the epitome of oceanfront dining and the warm Goan breeze. This restaurant in Calangute provides a comprehensive menu that features mouthwatering dishes that highlight distinctive flavors, spices, and beverages worldwide. The interiors at SinQ Beach Resort Goa feature a minimalistic ambiance that translates into a one-of-a-kind and exciting experience, differentiating it from the other Calangute hotels and making it stand out from the competition.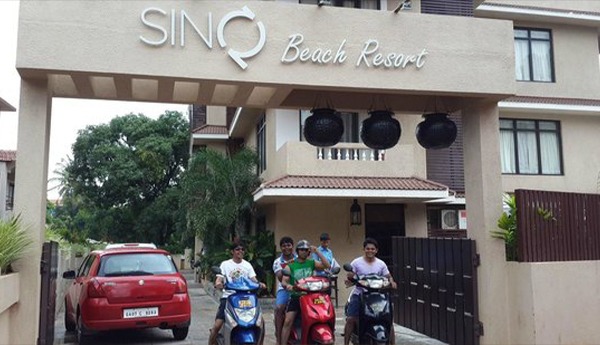 Cola Goa Beach Resort
Cola Goa Beach Resort, in south Goa, is where the Cola Goa Beach Resort is. Cola goa Beach resort is in Cola and is 350 m from Little Cola Beach. It has a restaurant, free private parking, a bar, and a private beach area. The resort has a spa and wellness center and is close to a number of well-known attractions. Cola Beach is about 350 m away, and Agonda Beach is about 1.5 km away. The Cola Goa Beach Resort has a front desk open 24 hours a day, transfers to and from the airport, room service, and free WiFi. The resort is 6 km from the Cabo De Rama Fort. Cola goa Beach resort is 39 km from Dabolim Airport, the closest airport.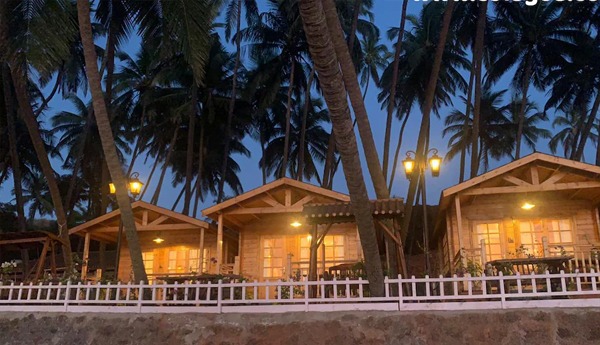 Leoney Resort Goa
Leoney Resort Goa is a charming place with villas and cottages that look like they were built in Portugal. Beautiful gardens and a blue swimming pool surround them. Ozran beach is one of the most exciting and beautiful beaches in Goa. It is only a few minutes' walk from the resort. Here, all you have to keep you company are the sun and the silvery sand. You could also spend your days relaxing by the Leoney pool, which was made with a shallow area for children in mind. There is also enough room for adults to swim a few lengths. There are comfortable sun loungers on the non-slip surface around the pool. Goan hospitality is what Leoney Resort Goa is all about. We'd love for you to be a part of it. If you think a great vacation means having everything you could want, then Leoney Resort is the place for you.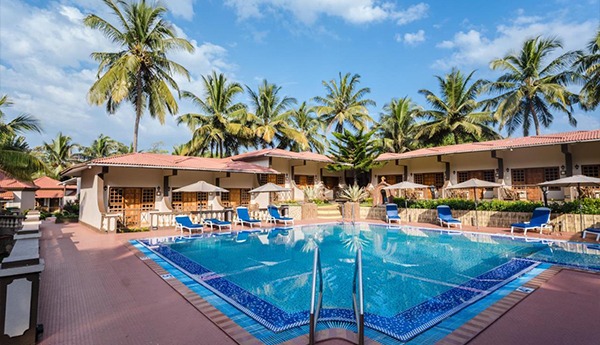 Mahindra Resort Goa
One of the most popular places to vacation in India is Mahindra Resort Goa in Varca, Goa, where the waves of the sea are white, and the sand is golden. The warm beach invites you to spend a fun day with your family, and the sparkling seashore wants you to take a walk with your partner. From your balcony, you can watch the waves hit the beach. Or, come to their soulful spa at the end of a long day to feel better. Do you want to shop? Gift shop at Mahindra Resort Goa has cute and unusual things for you to take home. Their comfortable studio rooms and suites make you want to stay all day.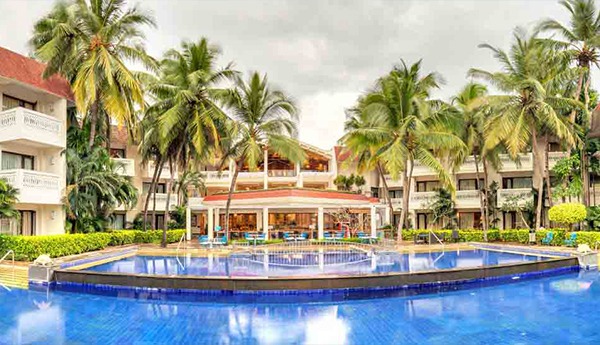 Somy Resort Goa
Goa is full of quiet villages, cute churches, real Goan food, emerald fields, and beaches where you might find a crab or two digging around. So My Resort Goa resort is in this area, in a small town called Calangute. This hotel is in a lively area, 2.3 km from Calangute Beach and 8 km from Fort Aguada, which was built in the 17th century and had a lighthouse. The rooms are simple and have floor-to-ceiling windows and light colors. They also have satellite TV and balconies. Some add small kitchens and living rooms. You can get room service anytime at So My Resort Goa. Breakfast, parking, and free WiFi in some public areas are all included in the price. There is also a casual bar with seating outside, a pool outside, and an international restaurant with terrace seating.
Swapnagandha Resort Goa
At a height of 700 meters above sea level and with a full view of the majesty of Vazra Sakla, a waterfall that is 143 meters in height, on one side and the tranquility of the Anjunem backwaters on the other, Swapnagandha Resort Goa is a new paradise that is ready to be explored and experienced. It is cozily nestled within the picturesque setting of Goa's legendary Western Ghats landscape.
Camelot Fantasy Resort Goa
The Camelot Fantasy Resort Goa has been in business for a long time. Executive and international guests have stayed in our luxury accommodations. All the people who work at Camelot Fantasy Resorts are experts at what they do, and each has a different set of skills from the hospitality and travel industries. Camelot Fantasy Resort Goa has a wide variety of facilities and services that will appeal to business travelers and vacationers. The room is well-designed and has everything you need for the highest level of comfort.