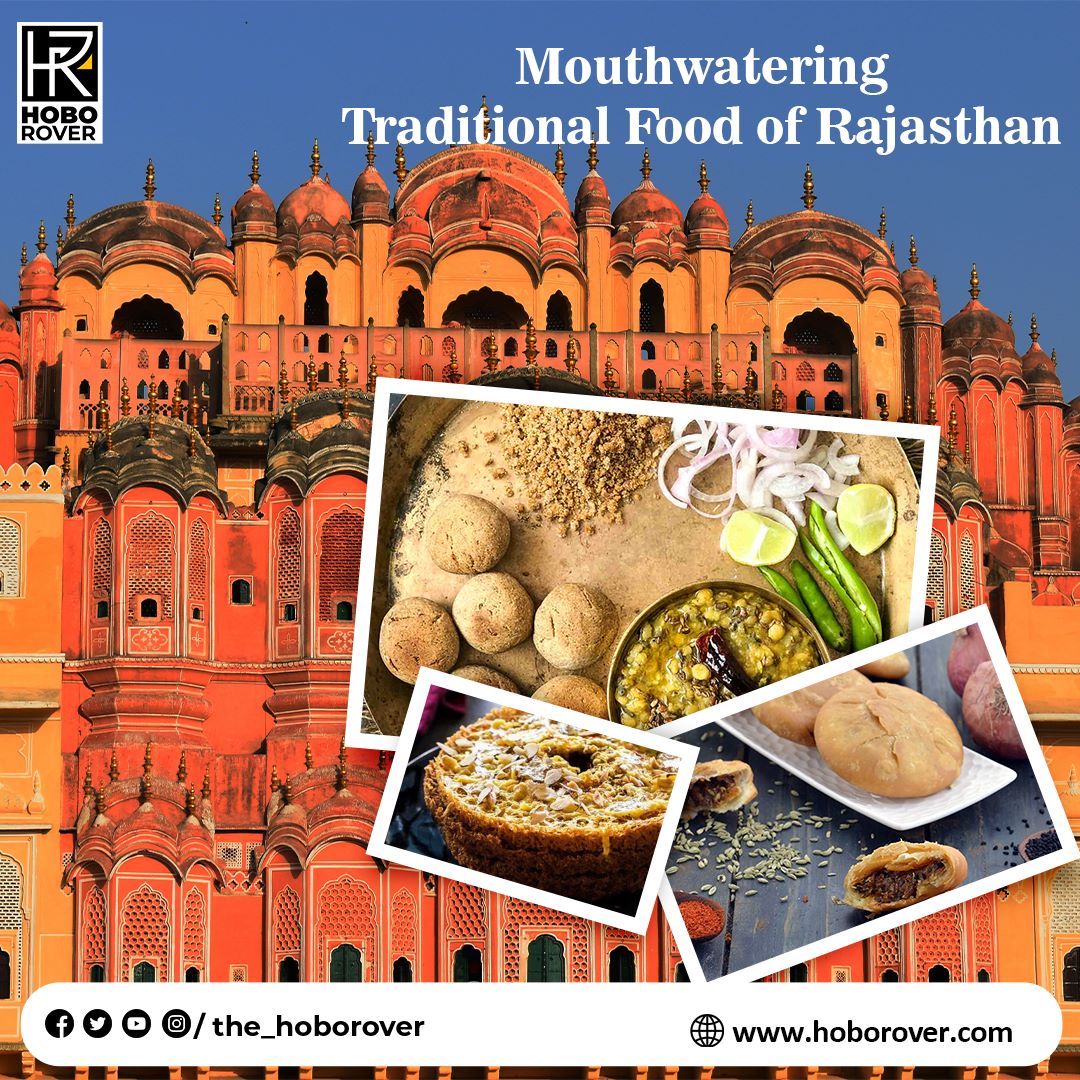 January 4, 2023

Hobo Rover

0
Food lovers will love Rajwadi, the land of the Rajputs. Rajasthani food is one of the few that has a never-ending platter of dishes, from tangy drinks to spicy appetizers, mouth-watering sabzis, and crunchy bread, with chutneys, achars, papad, and chhach as extra treats. Not to mention the soft desserts and rich, crunchy treats that melt in your mouth right away. The area's long history and dry climate have a big impact on Traditional food of Rajasthan.
Their food is different because they don't have access to many fresh fruits and vegetables. Beans, lentils, gram flour, corn, barley, millet, bajra, bread, and dairy products are all often used (especially ghee). More people tend to eat vegetarian food, but many different kinds of meat dishes are also popular.There are also many Places to visit in Rajasthan, which still show the heritage and valor of this place.
Here is a List of the Nine Most Traditional Food of Rajasthan:
Dal Baati Churma
Rajasthani cuisine, known as Dal Bati Churma, is a global favorite thanks to its abundance of flavorful ingredients and ease of preparation. Panchkuti dal (a mixture of five pulses), served with crisp balls dipped in ghee and a sweet dish called Churma, is a crowd-pleaser. Dal Bati Churma is a regional specialty of Rajasthan that is loved for its enticing ghee aroma and dal flavors. Don't pass up the chance to try the classic recipe!
Onion Kachori
Kachori is very important to the people of Rajasthan. There are so many different kinds of this tasty snack that you can find vendors frying them up in every corner of Rajasthan. This famous dish from Jaipur is filled with finely chopped onions and different spices. It is served with chutneys and dahi. Pyaz ki kachori is one of the best and most well-known kachoris, and it can make anyone cheat on their diet.
Ghevar
Sweets are a big part of Rajasthani food, and heavenly ghevar from a desert state is a great way to treat your taste buds. One of Rajasthan's most famous sweets, this crunchy treat comes in so many different forms that it can make your head spin. No matter which ghevar you choose, you can be sure that it will taste good. This is a must-try sweet and savory treat that also makes a great gift for your loved ones.
Ker Sangri
Ker Sangri is a traditional Rajasthani dish.It is often served with Bajre ki roti, which is the state's famous bread. This dish has a very unique taste that can only be found in Rajasthan. It is made with desert beans called Ker, a variety of local herbs, and different spices. This famous food from Rajasthan is also known for being healthy, and it tastes even better with a dollop of white butter.
Bajre Ki Roti with Lehsun Chutney
One of the most popular dishes in Rajasthan is bajra, which is also eaten in most other Indian states. The lehsun and onion chutney go well with the taste of the crispy roti. The garlic cloves and red chile powder in this dish from Rajasthan will make your mouth water. As the tasty food goes down your throat, you can taste the beauty of Rajputana.
Churma Ladoo
Churma ladoo is a well-known food in both Rajasthan and Gujarat. This tasty dish is made from a mix of wheat flour, jaggery, and desi ghee. Add a few poppy seeds on top, and you're done! Churma ladoo is a must-have dessert for every meal. It is most commonly made for the Ganesh Chaturthi festival.
Mawa Kachori
Have you ever heard of kachoris? Yes! is the answer from this Rajwadi land. In Rajasthan, you have to try the Mawa kachoris from Jodhpur. These kachoris are filled with mawa and crunchy dry fruits and served hot, making your mornings sweet and perfect.
Mohanthal
This royal dessert is just as impressive and will blow the minds of food experts. Mohan Thaal is a sweet dish that is only found in Rajasthan. It is made from besan and dry fruits. The smell and taste of ghee are like the cherry on top.
Laal Maas
Laal Maas is one of the most famous non-vegetarian dishes from Rajasthan. It is made with tender lamb cooked in a spicy sauce that gives off a strong smell. The dish's bright colors are not only nice to look at, but they also taste great. This typical Rajasthani mutton curry goes well with hot paranthas and dripping ghee, and it will make you want more.