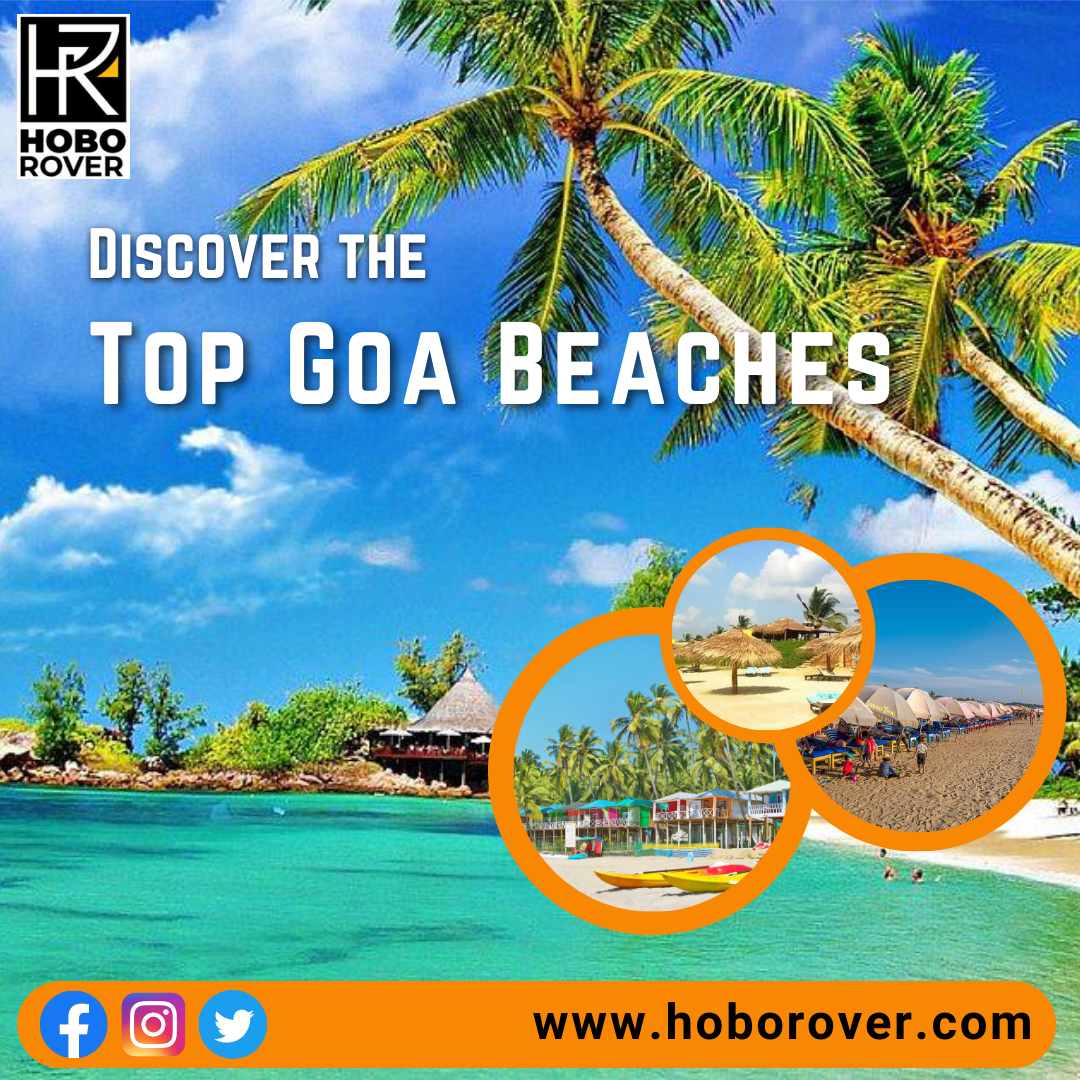 January 12, 2023

Hobo Rover

0
Goa, a small state on India's western coast, is famous for its stunning coastline and easygoing beach lifestyle. It can be difficult to narrow down your options when there are more than 40 beaches to explore during your trip. In this article, we'll discuss several of top Goa beaches that you shouldn't miss during your stay there. There's something here for everyone, from those who prefer quiet reflection to those who seek the excitement of a crowded bar. Get the sunscreen and swimsuits ready, because we're going to the Best Beaches in Goa!
Beaches in North Goa
Morjim Beach
Morjim Beach is a rustic haven in north Goa where you can get away from the crowds and find peace. This quiet stretch of beach has beach huts and sun beds, so it's a great place to spend the day. There are a lot of Russian people here, and many tourists choose to stay for a long time. There are also a lot of Russian restaurants. Morjim Beach, also known as "Little Russia," has both natural beauty and a unique cultural experience to offer.
Besides lying in the sun, birdwatching is one of the best things to do at Morjim Beach. There are many different kinds of birds that live in the area, such as kingfishers, cuckoos, bay-backed shrikes, and sand plovers. Keep an eye out for olive ridley sea turtles near the shore, but make sure to stay away from them and follow any local laws that say you can't touch them. You might even see dolphins swimming in the water off the coast if you're lucky.
Baga Beach to Morjim Beach Distance: Between Morjim and Baga Beach, there are 9 km. It's 16.2 kilometers on the road.
Baga Beach
Baga Beach is one of the best beaches in Goa for a day trip with family or friends. It is a great place to relax in the sun and listen to the waves. Goa's most famous beach is Baga Beach, which is known for its amazing nightlife, beach parties, and delicious seafood dishes. Baga Beach is a great place to be if you like to be around a lot of people, drink a lot, and dance to loud music while looking at a beautiful view.
Madgaon to Baga Beach distance: Between Madgaon and Baga Beach, there are 38 km. On the road, it's 46.1 km.
Panjim to Baga Beach distance: It takes 18 km to get from Baga Beach to Panjim by car. Driving from Baga Beach to Panjim takes about 18 minutes.
Thivim to Baga Beach distance: between Thivim and Baga Beach, there are 16 km. On the road, it's 18.6 km.
Goa Airport to Baga Beach distance: Goa Airport (GOI) is 21 kilometers from Baga Beach. On the road, it's 39.5 km.
Sinquerim Beach
Sinquerim beach is between Fort Aguada and Candolim Beach, so the best way to relax here is to grab your favorite and go explore the area. This is the best and closest place to get away from the city. It has a beautiful view of the fort's walls and the deep blue sea, and you can hear the waves crashing in your ears. Not even close! You can shop until your heart's content at the local markets. Now, when it comes to things to do, you have almost too many choices. Some of the most popular things to do at the Sinquerim beach are dolphin tours, paragliding, looking for crocodiles, and taking pictures of things under the water. People who want to do something simple can swim in the shallow parts of the sea, while people who want to try something new can do water sports. The beach naturally curves inward, making it safe for people who want to walk further into the water.
Beaches in South Goa
Arossim beach
Arossim Beach in South Goa has beautiful white sand and green palm trees, just like all the other beaches there. It is right next to Cuelim Beach and Cansaulim Beach, but not many tourists go there. It's a great way to get away from crowded cities and the busyness of everyday life. You can spend your vacation time lying on the Arossim beach, going swimming, or just soaking up the sun.
Majorda Beach
The placid beach environment of Majorda Beach creates the impression that one of Goa's less-known beaches is located here. In addition to its legendary association with Lord Rama, Majorda is renowned throughout the world as a culinary paradise. It is believed that when Lord Rama was kidnapped as a child, he was brought to this beach in order to hide him from his captors. According to another version of the legend, Lord Rama stopped by Majorda Beach on his search for Goddess Sita. It is widely regarded as one of the most appealing tourist destinations in South Goa. It is, however, one of the most famous beaches in Goa due to the variety of seafood joints that can be found there as well as the luxury accommodations that can be found there.
Benaulim Beach
During the day, Benaulim beach is a quiet place to be, but when the sun goes down, it comes alive with nightlife. The bullfights that happen here every year from October to March are a big draw. There are beach shacks, restaurants, and beach chairs all along the long stretches of sand. You can eat local food at these shacks, walk along the Benaulim beach until you're tired, or look at the beautiful architecture of the Church of St. John the Baptist Benaulim. You can't get much better than eating, taking it easy, and seeing the sights, right?
Benaulim Beach to Baga Beach distance: It takes 51 km to drive from Benaulim to Baga Beach. From Benaulim to Baga Beach, it takes about 51 minutes to drive.
Madgaon Railway Station to Benaulim Beach Distance: From Madgaon (Station) to Benaulim, which is about 5.4 km away, it takes about 6 minutes to drive.
Mobor Beach
Mobor Beach in South Goa is a picture-perfect paradise that is known for its beautiful sunsets and clean sands. This quiet oasis is a great place for couples who want to do more than just stroll along the beach. It is one of the most beautiful beaches in Goa because the water is so clear and the sand is so clean. At the shacks along the Mobor beach, you can buy a wide range of colorful crafts and tasty food. There are also places to stay that don't break the bank. People can also get to The Leela's private beach from here, which is a nice touch.
Cola Beach Goa
Cola Beach Goa is secluded, clean, and free from crowds—the perfect place to soak up the real Goa's natural beauty. This is one of the best beaches in Goa for families; bring the kids here to swim or build sandcastles. One more thing that will catch you by surprise is a blue lagoon that appears to have been plucked from a fantasy novel. There is a surreal quality at Cola Beach Goa to the entire setting.
Palolem Beach Goa
When you are in the southern part of Goa, you must go to this beautiful beach village with a few fishermen. The beach is 1.5 km long and is best known for its calm waters and lively nightlife. It has white sand, palm trees, and bamboo huts that make it look like a postcard. Because of its odd crescent shape, you can see both ends of the Palolem Beach Goa at once, which doesn't happen very often. Another big draw is the "silent discos" or "silent parties" that are held here. At these events, people listen to music through headphones and dance to the beat. Sounds pretty cool, huh? Palolem Beach Goa was also the setting for the popular film The Bourne Supremacy.
Goa Airport to Palolem Beach Distance: The Goa Airport (GOI) is 46 km away from Palolem. On the road, it's 63.4 km. From Goa Airport (GOI) to Palolem, it takes about 57 minutes to drive.